Solutions and Strategies for Addressing Maritime Cyber Threats
The maritime industry is increasingly reliant on IT systems for day-to-day operations. While IT helps optimize costs, increase efficiency, enhance safety and more, it also comes with a greater risk of cyberattacks. The rapid evolution of the IT environment and connectivity between IT and operational technology (OT) systems only adds to the potential vulnerabilities and threats in the maritime sector.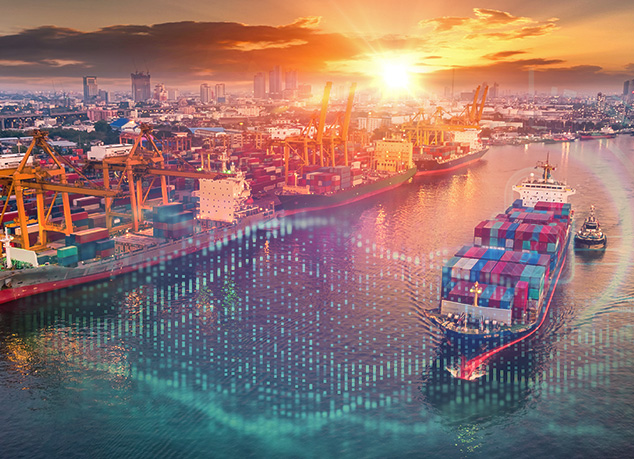 The International Maritime Organization (IMO) has developed high-level guidelines for managing cyber risks. Additionally, the IMO's Maritime Safety Committee adopted a resolution urging organizations to address cyber risks in their safety management systems (SMSs) no later than their first annual verification after Jan. 1, 2021.
Additionally, BIMCO and other international shipping associations recently published a new version of their Guidelines on Cybersecurity Onboard Ships. The publication is based on the IMO documents, the NIST Cybersecurity Framework Version 1.1 and other industry guidelines. It offers detailed recommendations for conducting cyber risk assessments, mitigating threats and responding to incidents.
GDS is a longtime partner of inland marine operators and other organizations in the maritime sector. We can help these organizations assess their environments and leverage our comprehensive suite of solutions to protect their IT systems and data.
Cyber Threat Vectors
The maritime industry faces several unique challenges when it comes to cybersecurity. Organizations often rely on legacy IT and OT systems that have obsolete operating systems or are no longer supported. These include mission-critical systems used for navigation, propulsion and power control, and cargo loading and management. A cyberattack could have severe safety implications.
Complex supply chains also impact cybersecurity. Multiple stakeholders are frequently involved in ship operations, and vessels interface with shoreside systems maintained by numerous vendors. Cyber risk management varies substantially among these entities, and a lack of clear roles and responsibilities limits accountability.
The maritime industry faces a cyber threat environment that requires a proactive approach to prevent a breach.
As in most industries, phishing and other social engineering attacks are a leading cause of incidents. Phishing attacks commonly distribute malware — all it takes is one user clicking on a malicious link or attachment to activate malware that spreads quickly through vulnerable systems and even other entities in the supply chain. These threats increase as more users and devices connect to the network.
While most OT systems are still disconnected from the IT network, Industrial Internet of Things (IIoT) devices are being integrated onto vessels to monitor onboard systems and automate operational processes. Attackers scan these devices for weaknesses and use them to infiltrate the network.
Prevention and Response
Addressing these threats begins with a cyber risk assessment to determine the likelihood of attack and the potential impact should it occur. The assessment should include a review of each onboard system, how systems are interconnected and the data that flows from system to system. This analysis helps organizations prioritize their cybersecurity investors and efforts, and is different from the operational risk assessment normally conducted as part of the SMS.
Armed with the results of the assessment, organizations can develop a cybersecurity strategy and begin implementing tools. The BIMCO publication recommends a defense-in-depth approach that combines firewalls, intrusion prevention systems, access controls, email and web protection, and software patch management.
GDS delivers all of these capabilities in a tightly integrated, fully managed approach. Our Advanced Infrastructure Security, End User Security, Email Security and Web Security solutions combine to detect, block and defend against the most sophisticated cyberattacks. Every solution is monitored around the clock by our cybersecurity experts, who are prepared to respond when an incident occurs.
The maritime industry faces a cyber threat environment that requires a proactive approach to prevent a breach. Let GDS help you perform a risk assessment and implement fully managed solutions to protect your critical assets.
---
Benefits of Managed IT Services from Global Data Systems
Strategic Managed IT: We help you solve your technology related business problems.
Connectivity: We get you reliable, secure connectivity anywhere in the western hemisphere in 48 hours.
Support: When you need help simply call our 24x7x365 support number.
Billing: Instead of managing hundreds of vendors - get one, easy to read bill from GDS.