SECURE NETWORK ACCESS ANYWHERE
The GDS NOMAD™ Mobility and Remote connectivity solution is an easy way for employees away from the office to remotely stay connected to the outside world, no matter the location.
Secured access of communication/application
Multiple transport options
Plug-and-play, easy set up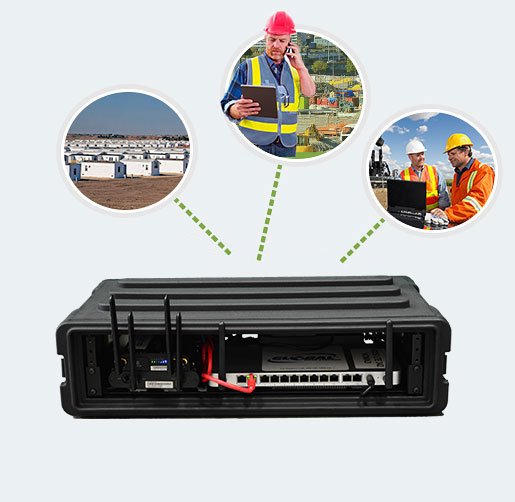 Problems It Solves
Lack of secure connectivity in remote locations
Downtime due to WAN service outages
Security threats associated with mobile connections
Business disruption in the event of disaster
Complicated billing for telecom services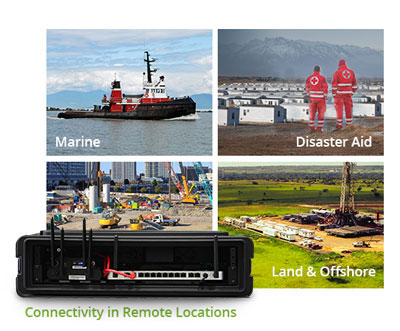 The connected world has led to an increasing number of mobile and remote workers, forcing organizations to answer the question: "How will I enable my people to work anywhere?" Employees in the field need secure, reliable access to applications, data and collaboration tools. Small teams often require the flexibility to set up operations at job sites, customer facilities and other remote locations.
GDS has developed two unique plug-and-play solutions that simplify mobile and remote connectivity. NOMAD™ is a self-contained, portable device that serves as an "office in a box" for teams of up to 25 people. It provides network functionality with multiple transport options, along with built-in security, traffic shaping and application management. It also includes high-quality business communication services delivered by GDS.
NOMAD-2GO™ offers many of the same features as NOMAD™ in a smaller unit that is designed for one or two people. Both solutions are monitored, managed and supported by the experts at GDS with one simple bill for all connectivity services.
GDS Mobile and Remote Connectivity solutions enable you to:
Provide users with secure network access in any location
that has a source of electrical power. You can leverage LTE wireless and satellite connectivity where traditional terrestrial services are unavailable.
Gain true mobility as well as robust network services
with an all-in-one solution housed in a portable, hardened case. Individual users and small teams get everything they need to establish voice and data services.
Reduce security risks
through deep packet inspection, content filtering and other robust controls.
Get remote locations up and running quickly
with a plug-and-play solution designed for small teams. NOMAD can provide instant connectivity while terrestrial services are being provisioned.
Facilitate business continuity
by making it easy for users to move operations to another location in the event of disaster.
Minimize the burden on your in-house IT team
with GDS managed services and simplified billing. The solution is monitored, maintained and supported to ensure a high-quality user experience.