FULLY MANAGED AND SECURE SD-WAN SOLUTION
The GDS Next Generation Connectivity is a cost-effective, fully managed and secure SD-WAN solution that gives you a rock-solid, stable internet connection in a wide variety of office locales, including branch offices & mobile platforms.
Rapidly deployable, hybrid SD-WAN solution
Your data is protected & secure
24/7/365 live monitoring and support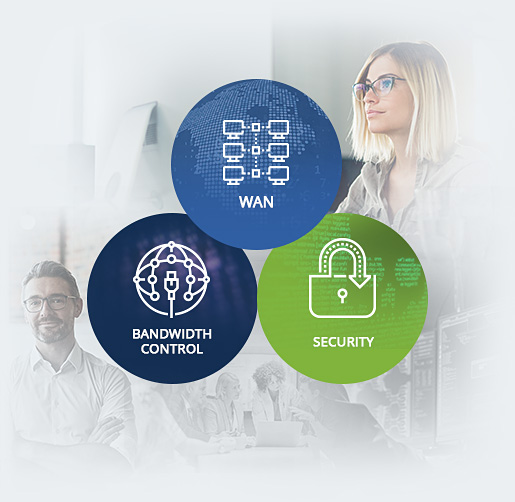 Problems It Solves
Downtime due to Internet outages
Dropped calls and call quality issues
Security threats
Lengthy wait times for connectivity deployments
Complex Billing
Confusion over where to go for support
Next-Generation Connect (NGC) reduces Risks Associated with Unsecured Networks
Securely connecting people to business applications is often the difference between success and failure. Downtime caused by lost connections, security breaches and poor support — whether in a branch location, corporate office or home office — presents substantial risks. Organizations can suffer lost revenue, decreased productivity, employee turnover and a tarnished reputation.
Next-Generation Connect (NGC) reduces these risks by maximizing the performance, reliability and security of your WAN. NGC is a fully managed and secure SD-WAN solution that minimizes downtime by rapidly switching to a standby internet connection when an outage is detected. It also manages bandwidth and prioritizes traffic based upon application requirements, business needs and real-time network conditions.
NGC's advanced security features, including next-generation firewall, antimalware protection, content filtering and more, help to prevent, detect and respond to security threats. NGC is monitored, managed and supported around the clock by GDS's team of experts, giving you peace of mind that your business is protected.
Experience the advantages of reliable, secure SD-WAN.

Let us simplify your IT today.
GDS Managed Secure SD-WAN solutions enable you to:
Minimize the risk of lost connectivity and business disruption
by combining multiple WAN services and 4G/LTE wireless. NGC provides automatic failover to prevent downtime in the event of a service provider outage.
Optimize performance
by selecting the best path based upon signal strength, delay, jitter and other factors. NGC also enables network traffic shaping, application prioritization and policy-based bandwidth control.
Simplify billing and manage costs
by consolidating your WAN services with GDS. GDS eliminates the confusion and administrative overhead of complex carrier billing.
Enhance security
by blocking malicious and undesirable content, preventing network intrusion and enforcing security policies. IPsec VPN capabilities self-configure for secure site-to-site connectivity.
Facilitate business continuity
by making it easy for users to move operations to another location in the event of disaster.
Increase agility and IT efficiency
with a fully managed solution. GDS also offers unified billing for all of your connections with the flexibility to add and change locations as needed.