Enabling highly reliable and cost-efficient connectivity for inland marine operations
An in-depth look & detailed analysis at connectivity solutions for inland marine operations

Inland Marine Connectivity

Communications & connectivity insights for commercial inland marine
Today, many tugboat and towboat operators are implementing vessel management systems (VMSs) to capture and record a wide range of data about their vessels. Unfortunately, many operators lack affordable and reliable connectivity between their vessels and shoreside enterprise applications.
This whitepaper explores the history of inland marine communications and the growing need for real-time connectivity to support modern business applications and regulatory compliance requirements for commercial inland marine businesses.
It also discusses a unique multi-carrier private network that delivers 99 percent uptime and robust security in a fully managed, plug-and-play solution
Inland Marine Subchapter M Compliance & Coast Guard Code of Federal Regulations (CFR)

Complying with Code of Federal Regulations Subchapter M

Is your commercial inland marine business complying with Code of Federal Regulations Subchapter M?
These are rules set by the government that set minimum standards for safety in an effort to protect lives, property and the environment. All vessels must abide by them or you could face large fines. Any type of connectivity to the internet needs to be secured or you can risk all sorts of cyber security issues.
This whitepaper gives you insights into what you need to do to be in compliance of these federal regulations to avoid big fines and costs.
What You'll Learn
Learn about Subchapter M Compliance and why it's important
Learn about the growing need for connectivity in inland marine situations
Discover the pros and cons of satellite and cellular service
Learn about unique, cost effective solutions that can solve your connectivity problems
With more than 30 years of experience, GDS has the proven ability to develop solutions that precisely meet your business objectives. We are committed to excellence in service delivery, from solution design and implementation through simplified billing.
GDS can solve your inland marine connectivity problems - Call 888-435-7986 or Contact us Now >
Fill Out the Form Below

to Download This Whitepaper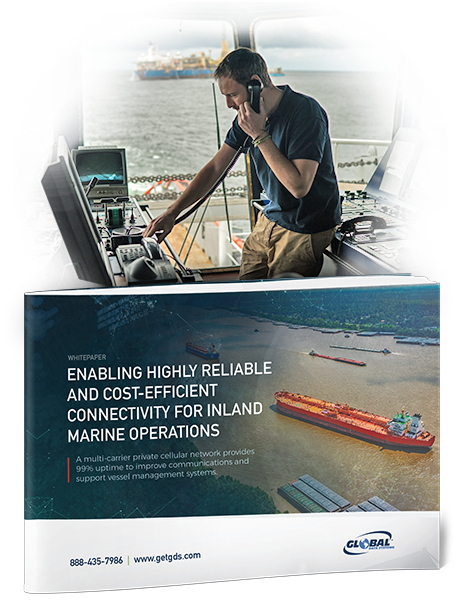 Written by

Connectivity & Industry Experts
Our writing team has over 10 years in the industry
This whitepaper offers deep insights based on our experience in the industry
Our whitepaper resources seek to educate our clients on topics that affect their business