Secure, Reliable Cellular Coverage in the Gulf of Mexico
Provide workers out in the Gulf with secure, reliable connectivity
Reduce costs with seamless cellular WAN coverage in a fixed-rate pricing model
Simple & fast to deploy with 24/7/365 Support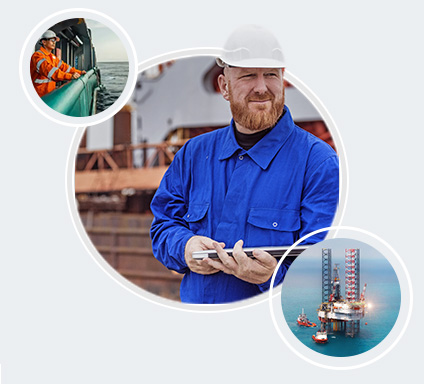 Problems It Solves
Lack of reliable cellular coverage in the Gulf of Mexico
Inadequate network bandwidth and performance
Insufficient IT resources to manage the wide-area network
Need to contract with multiple cellular providers
Costly and complex network implementation
Security threats that put sensitive data at risk
Connectivity in the Gulf of Mexico has improved with the introduction of LTE cellular service
It provides a cost-efficient alternative to satellite communications. However, organizations operating in the Gulf still face challenges to achieving the reliability and security they need for today's mission-critical applications. To ensure seamless operation, they must contract with multiple cellular providers and implement the networking technologies required to make it all work.
A Cost-Effective, Reliable Connectivity Solution: NOMAD-G LTE
GDS has eliminated those headaches with its NOMAD-G LTE service. NOMAD-G LTE is built to provide organizations with the on-demand bandwidth they need to operate in this area. GDS maintains interconnectivity agreements with multiple service providers, and supplies all the necessary hardware and software.
24/7/365 Monitoring & Management
Most importantly, our experts manage the entire solution 24x7x365 from our Network Operations Center (NOC), using state-of-the-art monitoring and alerting tools to ensure that the network is available, secure and performing optimally. Operators in the Gulf of Mexico can focus on running their businesses rather than managing the network.
The GDS NOMAD-G LTE solution enables you to:
Ensure reliable and secure connectivity
for mission-critical operations in the Gulf of Mexico. The NOMAD-G LTE solution features a dual-SIM modem for connectivity to multiple networks.
Reduce the network management burden on in-house IT staff.
The networking experts at GDS use state-of-the-art tools to monitor network events and remotely access hardware to perform maintenance.
Gain on-demand bandwidth throughout the Gulf of Mexico
without the need to contract with multiple cellular providers.
Maximize availability with automatic failover
to a standby network if the primary network is disrupted. Because the connection to the failover network is already established, the transition happens quickly.
Protect applications and data from hackers
with a zone-based firewall, virtual private network, content filtering and threat management capabilities.
Obtain all the hardware needed for a high-performance WAN and Wi-Fi access without capital outlays.
NOMAD-G LTE includes everything you need in a hardware-as-a-service solution.