Bring together voice and data over a secure, private WAN
SIP Trunking gives you significant cost savings and added feature benefits that solve many of your business communications problems
Modern VoIP features
Fully managed
Reduce costs of traditional phone lines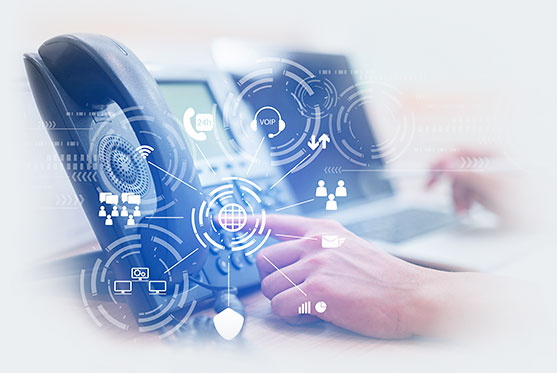 Problems It Solves
High cost and complexity of building out a private cloud
Security and privacy concerns associated with the public cloud
Capital tied up in depreciating equipment
Limited flexibility of the traditional IT environment
Lack of cloud management expertise
Traditionally, organizations had to maintain separate networks for voice and data connectivity.
Voice over IP (VoIP) platforms enable the routing of voice calls over the data network but don't ensure a high-quality user experience. In addition, organizations with a mix of VoIP and analog devices still need multiple connectivity options.
GDS SIP trunking services bring together voice and data over a secure, private WAN with optimized performance. SIP trunking connects both IP and analog devices via the Internet, eliminating the need to maintain separate voice circuits or replace legacy equipment.
The GDS SIP trunking solution provides elastic bandwidth with multiple "last mile" options, and Quality of Service capabilities that optimize the user experience. Modern VoIP features such as extension dialing, call forwarding and simultaneous ring create a unified voice network across all users and locations. The solution is fully managed by the experts at GDS, with one simple bill for all services.
GDS SIP Trunking enables you to:
Streamline and consolidate voice and data connectivity
with one unified network across all users and locations. Bundled usage and elastic bandwidth provide flexibility and cost-efficiency.
Give users access to the latest VoIP features
even on legacy equipment. Workers on the go can give out one number that will reach them anywhere, including their preferred mobile device.
Gain maximum voice call quality through a private, software-defined network
with integrated Quality of Service features.
Easily administer voice services across multiple locations and users
with a user-friendly, web-based portal. Powerful reporting features give administrators insight into usage for planning and cost optimization.
Leverage multiple transport options
including broadband, fiber, direct Internet access and LTE cellular, with one simple bill for all services.
Ensure the reliability of critical voice services
through multiple SIP servers in geo-redundant data centers and highly available gateway devices that are fully managed by GDS.