Protect Your System Infrastructure with Our Advanced Security Suite
GDS Advanced Infrastructure Security provides robust protection against network intrusion without hampering performance.
Block malicious traffic
Intrusion prevention services
Hardware and software provided by us
Fully managed by GDS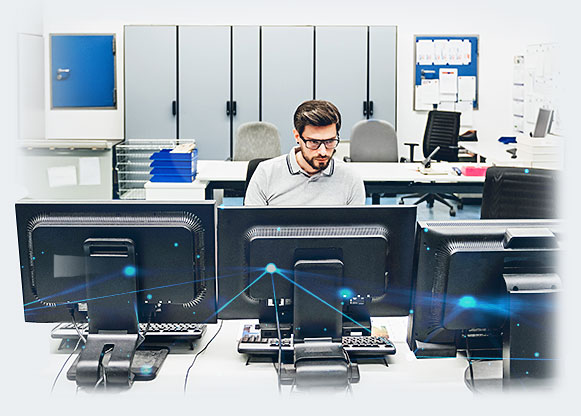 Problems Advanced Infrastructure Security Solves
Sophisticated attacks that aren't detected by traditional firewalls
Outdated policies and firewall rules that leave security gaps
Challenge of ensuring that only authorized users access the network
Difficulty of monitoring, managing and maintaining security devices
High cost and business disruption of a security breach
Lack of in-house security expertise
Organizations are constantly bombarded by a wide range of security threats, including zero-day attacks capable of exploiting unknown vulnerabilities. That's why organizations must take a layered approach to cybersecurity that synchronizes multiple tools and processes.
GDS Advanced Infrastructure Security provides robust protection against network intrusion without hampering performance. Our layered approach begins at the perimeter, where a next-generation firewall (NGFW) that uses application-aware deep packet inspection to better detect and block malicious traffic. It analyzes network traffic up to and including Layer 7 in order to classify users, content and applications and enforce access control policies. Access control is identity-based and device-aware, enabling the enforcement of policies according to the user, device type, location and other criteria.
The GDS solution includes intrusion prevention services that actively block network packets when malicious activity is identified. Signature matching and anomaly detection protect against malware and other malicious content. Category-based content filtering updates automatically from the cloud so that policies are always current.
GDS provides all the hardware and software needed, and monitors, manages and maintains the solution from our Network Operations Center. The GDS team reviews and analyzes logs and events and provides regular reports. Any potential threats are immediately addressed.
Get A FREE Cybersecurity Assessment from GDS

Get a Dark Web Scan, Network Analysis & a Penetration Test
GDS advanced infrastructure security enables you to:
Stop zero-day exploits and sophisticated malware
even if the data is encrypted. Deep packet inspection combines with intrusion prevention and content filtering to identify and block malicious traffic.
Prevent hackers from accessing the network to exfiltrate data or disrupt systems.
Advanced Infrastructure Security works with other GDS solutions in a layered approach that detects attacks across multiple threat vectors.
Enforce security policies at the application level
with identity-based and device-aware access controls.
Ensure that activity logs are monitored around the clock
clock to identify policy violations and abnormal traffic patterns. If a cyberattack is detected, the experts at GDS will respond quickly to minimize the impact.
Gain the processing power needed to thoroughly analyze packets
without impacting the performance of mission-critical applications.
Eliminate the administrative overhead of updating firewall rules
as new threats emerge and the IT environment changes. Detailed reporting provides a snapshot of the organization's overall security posture.