Protect Your Users from Web Threats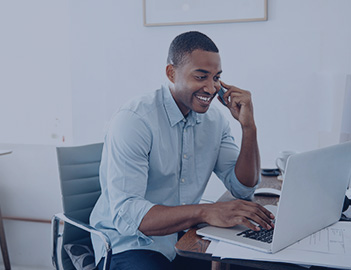 GDS Web Security provides comprehensive protective measures against internet threats that give you the control on what comes in and out of your business network.
Control use of applications
Increase network performance
Analytics to detect threat activity
Problems It Solves
Cyberattacks launched via malicious websites
Access to risky content and applications
Rapidly evolving malware that evades traditional tools
Network performance drains due to high bandwidth usage
Exposure of sensitive data in unsecure sites
Difficulty keeping up with ever-changing security threats
Defend Your Network with Web Security from GDS
While the Internet is critical to business operations, it also comes with significant threats. According to a recent report, 42 percent of the top 100,000 websites have a history of malware distribution, cyberattacks and security breaches. If your employees access these sites or other malicious, inappropriate or unproductive content, they can put your organization at risk.
GDS offers a comprehensive web security solution that provides advanced malware protection along with application visibility and control. Backed by the largest threat detection network in the world, our web security solution rapidly analyzes web traffic to detect emerging threats and zero-day attacks.

Traditional content filtering combines with real-time scanning to block undesirable URLs. Granular policies and context-based rules allow you to control web application usage, set bandwidth quotas and prevent confidential data from leaving your network.
GDS web security enables you to:
Reduce security, compliance and productivity risks
by blocking access to millions of known websites. Dynamic content analysis accurately identifies 90 percent of unknown websites in real time.
Use behavioral analytics and threat intelligence to detect malware activity
that attempts to evade traditional web security tools.
Get actionable insights
through a centralized management tool that provides reporting across the environment. Log data is rapidly indexed and analyzed to provide greater visibility into web usage and security threats.
Control the use of unapproved applications and services
such as social media, file sharing and streaming content. Use can be allowed to access applications but not perform risky activities such as uploading documents or sharing information.
Prevent the loss and exposure of sensitive information
through deep content inspection and consistent policy enforcement.
Choose between appliance-based and virtual deployment models
to meet your specific needs. By implementing virtual appliances in branch locations, you gain robust protection without implementation and support headaches.
Related GDS Security Solutions
Protect Your End-Users
Our end-user security solution continuously scans for malicious content to prevent it from reaching end-users, and actively monitors endpoint devices to detect and mitigate threats.
Protect Your Email
Our email security solution prevents ransomware and other email-borne threats from getting to users, and actively monitors the email environment for zero-day threats.
Gain Peace of Mind with Advanced Web Security

See our web security solution in action from one of our cloud security experts.