How SD-WAN Supports Inland Marine Operations in the Energy Sector
Inland marine services are just as vital to the energy sector as offshore operations. In fact, much of the nation's crude oil, refined fuels and other energy products are transported by barges. These in turn rely on tugboats and towboats for propulsion and maneuvering.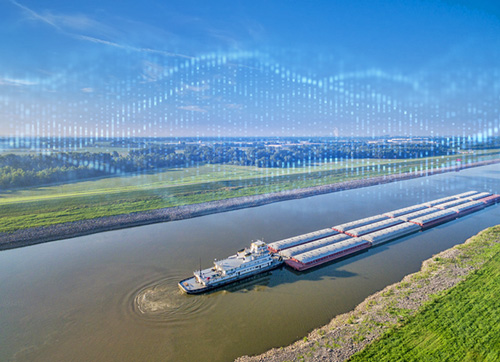 Communication has long been a challenge in the inland marine industry. Although tugboats, towboats and barges operate on inland waterways and not the open sea, they often lack access to reliable connectivity from vessels to onshore operations. That's a real problem, given the number of systems and processes that require secure, real-time access to applications and data.
The right software-defined WAN (SD-WAN) solution can provide robust connectivity for inland marine vessels. SD-WAN enables organizations to aggregate multiple connections into one hybrid network that ensures reliability and performance. Software intelligently routes data over the best route based upon real-time network conditions. Best-in-class SD-WAN solutions also integrate layered security to protect sensitive data from threats.
The Need for Secure, Reliable Connectivity
Inland marine operators need to connect their electronic charts and logbooks to onshore applications in order to streamline business processes and ensure the performance of their vessels through timely maintenance. Connectivity also aids in compliance with the latest safety regulations, including the Coast Guard's "Subchapter M" requirements.
The right software-defined WAN (SD-WAN) solution can provide robust connectivity for inland marine vessels.
Reliable connectivity is essential for attracting and retaining experienced personnel. Today's crew members won't tolerate long days without access to communication, social media, entertainment and news. Inland marine operators need cost-efficient bandwidth so that crew members can use their mobile devices as they would onshore.
But despite their relatively close proximity to shore, tugboat and towboat can't always rely on cellular connections. Additionally, their routes may cross carrier boundaries, leading to roaming charges. Ever-increasing bandwidth demands can lead to higher costs as well.
Security is another concern. Any Internet connection could potentially expose sensitive data, compromise user credentials or introduce malware. Crew members accessing the network with their personal devices expand the potential attack surface. Additionally, organizations in the inland marine sector do not always adhere to cybersecurity standards, increasing the threat of compromise through a third-party business partner.
GDS Inland Marine Connectivity
GDS has addressed all of these issues with an SD-WAN solution designed specifically for the inland marine industry. The SD-WAN solution leverages cellular access from multiple providers, with instantaneous failover if the primary connection is lost. Satellite connectivity can be added for backup if needed to meet business requirements. A fixed-rate pricing model ensures predictable costs, and one simple bill for all services streamlines accounting.
The solution leverages industry-leading networking equipment delivered in a self-contained, ruggedized unit. Plug-and-play simplicity enables rapid deployment on any vessel, with everything needed for WAN connectivity and 802.11ac Wi-Fi access for up to 25 people.
Multiple layers of security tools are incorporated into the unit, including an application-aware firewall and secure threat management. Devices connecting to the network are monitored continuously to detect malicious activity or files. Web content filtering blocks malicious websites and risky applications and services.
The SD-WAN solution is monitored around the clock and fully managed by the experts at GDS, who ensure reliability and performance and respond to security threats. Energy companies and the inland marine operators who support them can focus on their businesses instead of WAN connectivity. Let us show you how the GDS managed SD-WAN can keep your tugboats, towboats and barges connected.
---
Benefits of Managed IT Services from Global Data Systems
Strategic Managed IT: We help you solve your technology related business problems.
Connectivity: We get you reliable, secure connectivity anywhere in the western hemisphere in 48 hours.
Support: When you need help simply call our 24x7x365 support number.
Billing: Instead of managing hundreds of vendors - get one, easy to read bill from GDS.