2021 Cybersecurity Checklist: 8 Tools and Strategies to Protect Your Systems and Data
In our last post, we discussed six cybersecurity threats that will likely have the greatest impact on organizations in 2021. Phishing campaigns will continue to proliferate, and many will exploit the fear and uncertainty that continues to surround the COVID-19 pandemic. Experts are also predicting "Nigerian Prince" scams preying on individuals and businesses looking for economic stimulus payments.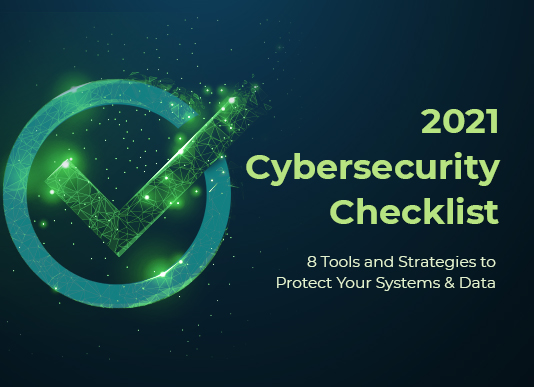 Ransomware attacks will continue to increase, as will cloud data breaches and attacks on endpoint devices and the Internet of Things (IoT). There is not one cyber security control that can address all of these threats, so you need a layered security strategy to protect your applications and data.
Odds are that your existing security infrastructure is inadequate. Cyber threat researchers say that 2020 has seen a massive increase in the number of common vulnerabilities and exposures (CVEs). Additionally, attackers are using older CVEs in new ways, targeting less-secure devices on home networks.
What cyber security tools and strategies will you need in 2021? GDS recommends the following:
1. Start with a security assessment
You need to identify the gaps in your security in order to close them. A cyber security assessment will detect vulnerabilities that could give hackers access to your network and provide recommendations for reducing the risk of cyber attack.
Cyber threat researchers say that 2020 has seen a massive increase in the number of common vulnerabilities and exposures.
2. Secure remote access
With huge numbers of users working remotely, you need to ensure that they aren't opening the door to threats when they access corporate IT resources. Virtual private networks (VPNs) use strong encryption to protect sensitive data.
3. Implement strong endpoint security
Traditional antivirus software is important but it's not sufficient. You need continuous monitoring of activities and events on endpoints to detect and block threats that get past initial defenses.
4. Monitor for insider threats
Malicious and negligent users are responsible for at least 30 percent of data breaches. A significant portion of these threats involve stolen or misused credentials. It's critical to monitor for unauthorized logins or unusual login behavior and restrict user access to needed IT resources.
5. Use multifactor authentication
Simple username and password combinations can easily be compromised. Adding a third authentication factor, such as a PIN or biometric, greatly enhances security. This is particularly important for administrator-level access.
6. Apply patches and updates promptly
CVEs that are two to even 15 years old are still being exploited to attack systems because security patches were not applied. You need visibility into the operating systems, firmware and software on your network, and a strategy for promptly installing patches and updates. If you can't keep up with it in-house, outsource to a qualified managed IT services provider.
7. Back up your systems, including cloud-based applications
Frequent and reliable backup is your best hedge against a ransomware attack. Don't forget about your data stored in the cloud — it could be targeted by ransomware and it's not the cloud provider's responsibility to back it up.
8. Develop and practice an incident response plan
It's simply not possible to protect against every threat. A well-thought-out and thoroughly tested incident response plan can help minimize the impact of a successful attack.
Now that you know what you need to do, you're probably wondering how much it will cost. Our next post will explain how to develop your 2021 cyber security budget, and how GDS managed IT solutions and services provide a cost-efficient framework for your cyber security infrastructure.
---
Benefits of Managed IT Services from Global Data Systems
Strategic Managed IT: We help you solve your technology related business problems.
Connectivity: We get you reliable, secure connectivity anywhere in the western hemisphere in 48 hours.
Support: When you need help simply call our 24x7x365 support number.
Billing: Instead of managing hundreds of vendors - get one, easy to read bill from GDS.