Satellite Communications Are Essential for Disaster Recovery
Disaster planning presents organizations with a difficult paradox. Reliable communication is essential for maintaining contact with staff, customers and business partners in the aftermath of a catastrophic event. However, effective communication is usually among the first casualties when disaster strikes.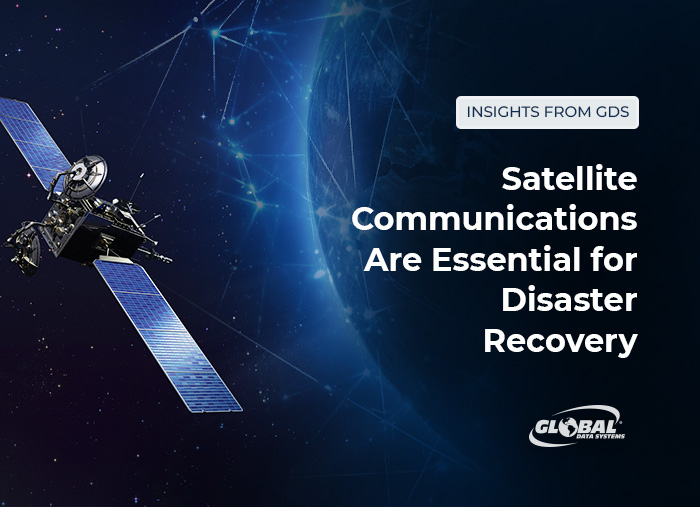 Earthquakes, hurricanes, floods, wildfires, tornadoes and other calamities often wreak havoc on traditional telecom systems, causing widespread infrastructure damage, power outages and network overloads. For instance, infrastructure damage during the August firestorm in Maui left some of the island's residents without phone, Wi-Fi or Internet service for a month.
In such circumstances, satellite communications offer a more reliable alternative. Space-based satellites remain unaffected by terrestrial issues, providing the communication resilience needed for maintaining contact and sharing accurate information with emergency responders, family, colleagues, customers and business partners.
Minimal Infrastructure
Unlike terrestrial communication infrastructure that relies on a network of interconnected towers, cables and switches vulnerable to physical damage, satellite systems require very little ground-based infrastructure. They need little more than a power source and a satellite dish or antenna to receive and send signals via a satellite transponder orbiting the Earth. If dishes or antennas are damaged or disabled, they can usually be repaired or replaced in about an hour.
Only about half of U.S. businesses have a documented crisis communication plan.
Global reach is another compelling characteristic of satellite connectivity. Landline and cellular networks can only be deployed in regions with established infrastructure. However, space-based communication networks have no significant geographic limitations. When terrestrial networks are disrupted, satellites can provide communication services to remote and disaster-stricken areas that would otherwise be isolated.
Additional Benefits of Satellite Communications
Beyond voice communication, satellite systems deliver essential backup connectivity for critical data and Internet services. This allows organizations to continue processing transactions, accessing cloud-based resources and maintaining an online presence to minimize the economic impact of the disaster.
Satellite also delivers the bandwidth for video conferencing for virtual meetings and real-time collaboration. In addition to maintaining a sense of connection among employees, partners and customers, video capabilities enable visual assessments of any damage from the disaster, improving recovery coordination and decision-making.
Satellite phones' push-to-talk (PTT) features, as well as satellite communications devices, are also valuable in disaster scenarios. PTT allows users to have instant one-to-one or one-to-many conversations with the press of a button, much like using a walkie-talkie. This is handy when communication needs to be concise and to the point, such as for quick status updates, alerts, and team coordination messages.
How GDS Can Help with Disaster Communications
Communication is critical for disseminating information and coordinating recovery efforts following a disaster. However, only about half of U.S. businesses have a documented crisis communication plan in place, according to a recent survey by Capterra. That's an unnecessary risk. A well-designed plan with a satellite communication component ensures that organizations can stay connected with their teams, first responders and stakeholders.
GDS has extensive expertise in the design, implementation, management and support of satellite connectivity solutions. Contact us to discuss how satellite can enable the rapid exchange of critical information and contribute to effective crisis management and recovery.
---
Benefits of Managed IT Services from Global Data Systems
Strategic Managed IT: We help you solve your technology related business problems.
Connectivity: We get you reliable, secure connectivity anywhere in the western hemisphere in 48 hours.
Support: When you need help simply call our 24x7x365 support number.
Billing: Instead of managing hundreds of vendors - get one, easy to read bill from GDS.