How Organizations Can Address the Challenges of Hybrid Work
The vast majority of organizations have embraced the idea of a hybrid work environment in which employees split their time between onsite and office work — 82 percent, according to one recent study. However, many are finding the transition is more difficult than they imagined.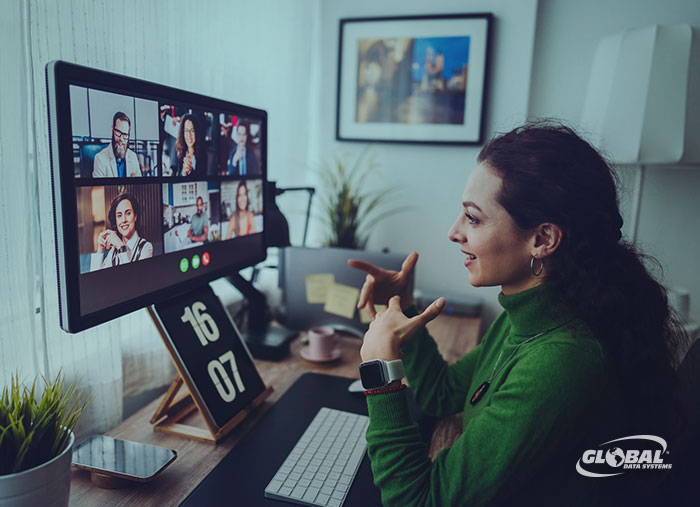 Network reliability, remote IT support, team collaboration and cybersecurity are among the key challenges to a hybrid transition, according to a recent Techaisle survey on hybrid work trends. Fortunately, these aren't insurmountable. Here's a closer look at these issues with suggestions for resolving them:
Network Reliability
Extending connectivity to employees no matter where they work strains traditional network architectures, leading to application failures, dropped connections and poor throughput. The increased use of video conferencing and cloud-based collaboration services have been particularly taxing. According to Techaisle, IT staff spend nearly half their time on connectivity-related issues.
Our suggestion: Software-defined wide-area networks (SD-WANs) resolve such issues with virtualized infrastructure that fully supports applications hosted either on-premises or in the cloud. SD-WAN further optimizes cloud connectivity through application-aware routing, traffic prioritizing, automated provisioning and other sophisticated features. The use of multiple transport types such as MPLS, broadband Internet, cellular and satellite ensures reliable connectivity.
Remote IT Support
The Techaisle study found that IT support is "an especially acute inhibitor" for 46 percent of organizations looking to support hybrid work. Employees working away from the office frequently encounter technical issues they can't resolve themselves, and getting help is often a frustrating process. According to a Gartner report, the average remote worker experienced 230 technology problems in the previous year, and nearly half of those surveyed said they had to wait three hours or more to get a problem resolved.
Remote support is tough on IT staff as well. More than 60 percent of the IT professionals surveyed by Gartner said the support requirements for those working outside the office have significantly increased their workload and caused them to consider a career change.
Our suggestion: A managed services provider (MSP) can relieve much of the support burden with around-the-clock help desk support. This ensures remote users can get assistance with device problems, network access difficulties, application issues or cloud access problems whenever they need it.
Network reliability, remote IT support, team collaboration and cybersecurity are among the key challenges to a hybrid transition.
Collaboration Coordination
More than half of those in the Techaisle survey say improving team collaboration is among their top priorities for 2022. In many cases, companies are still trying to support a patchwork of different file sharing, messaging, conferencing and telecommunications applications that users adopted during the early days of the pandemic. More than 70 percent of employees said the use of multiple collaboration tools makes work more complex, according to a Citrix survey.
Our suggestion: Companies should standardize on a single platform. Leading unified communications solutions allow users to access video conferencing, conversations, files and more through a common dashboard. Providing a consistent user experience across all communication channels improves workflow management, creates continuity and eliminates information silos.
Cybersecurity
Remote and hybrid work creates an expanded attack surface due to increased reliance on cloud services and applications, remote access tools and personal devices. Cyberattacks on corporate networks increased by 50 percent in 2021, reaching an all-time high of 925 a week per organization, according to Check Point Research. Complicating matters, an ever-worsening cybersecurity skills shortage makes it difficult to hire and retain qualified IT security professionals.
Our suggestion: Managed security services offer a cost-effective way to access the tools and expertise necessary to combat the evolving threat landscape. In addition to traditional services such as monitoring and managing firewalls, antivirus and intrusion detection, providers offer advanced solutions such as vulnerability assessments and incident response planning.
GDS offers solutions and services covering all aspects of the remote and hybrid work model. Contact us today to discuss your needs and challenges.
---
Benefits of Managed IT Services from Global Data Systems
Strategic Managed IT: We help you solve your technology related business problems.
Connectivity: We get you reliable, secure connectivity anywhere in the western hemisphere in 48 hours.
Support: When you need help simply call our 24x7x365 support number.
Billing: Instead of managing hundreds of vendors - get one, easy to read bill from GDS.