Choosing the Right WAN Transport Option: A Side-by-Side Comparison
In a previous post, we discussed the "last mile" connectivity problem — the limited performance associated with the shared Internet services available to remote offices and users. Most corporate data centers have a dedicated telecom circuit with guaranteed bandwidth and SLAs. However, it's typically not cost-effective or even feasible to provision such circuits for remote locations.
Generally, organizations will need to choose WAN transport services from among these options:
Fiber and hybrid-fiber coax (HFC). These services use fiber-optic cabling in the last mile to enable gigabit speeds. Unfortunately, fiber and HFC services are typically found only in major metropolitan areas. Also, while they offer exceptional price / performance they tend to be more expensive than other services. However, gigabit broadband, where available, provides an excellent foundation for a modern WAN.
Broadband. Broadband Internet solutions include Digital Subscriber Line (DSL), which uses traditional copper phone line, and cable, which uses the same coax cable that delivers TV services. Cable broadband can be a good option in areas where cable TV service is widely available, but it doesn't offer the performance of fiber or HFC.
Mobile wireless. 4G / LTE cellular is now widely available, offering significantly greater speeds than older mobile wireless technologies. Nevertheless, 4G / LTE is typically used as a backup connection, and only deployed as a primary service when more cost-efficient solutions are unavailable. 5G is expected to change the game in mobile wireless, but availability is years away for most locations.
Satellite. Satellite services can reach any location, except the extreme polar regions, and are not susceptible to cable cuts or natural disasters that can damage wireline and cellular services. However, satellite services are subject to "rain fade," the deterioration of radio frequency signals due to precipitation. Satellite is also significantly more expensive than other options.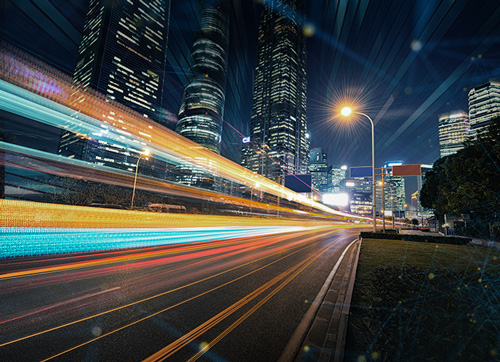 Factors to Consider for Connectivity
Again, not all services will be available in all locations — extremely remote areas may not have any reliable connectivity choices other than perhaps satellite. But when you do have choices, there are a number of factors to consider when selecting WAN transport.
Time required to provision services. Some wireline services have substantial lead time that needs to be factored into the decision-making process. If fast turn-up is needed, cellular may be a good option at least until wireline service can be installed.
Upstream and downstream bandwidth needs. It's important to understand bandwidth demands in order to balance performance and costs. For example, cloud applications have significant downstream capacity requirements but relatively limited upstream requirements, so cable broadband would be adequate.
Impact of latency, jitter and packet loss. WAN performance problems can cause a poor user experience with voice, video conferencing and other interactive applications. If these applications are mission-critical, fiber broadband is likely the best choice.
Availability requirements. How much downtime can you afford? Fiber broadband tends to be more resilient because it's newer infrastructure, but all wireline services are subject to downtime. If high availability is essential, it's a good idea to provision a backup service, ideally cellular or satellite.
There are a number of factors to consider when selecting WAN transport.
Intelligent WAN Solutions
Of course, there may be other considerations depending on business requirements and the number of locations that need to be supported. Many organizations lack the in-house expertise to architect an optimal WAN, and don't need the headache of negotiating with multiple telcos and Internet services providers. GDS can take care of all of that for you, leveraging our interconnectivity agreements and extensive experience in WAN technology. In many cases, we're able to reduce WAN transport costs dramatically.
Selecting the right WAN transport can be tricky. Let GDS design, implement, manage and support an intelligent WAN solution that precisely meets your business requirements.
Benefits of Managed IT Services from Global Data Systems
Strategic Managed IT: We help you solve your technology related business problems.
Connectivity: We get you reliable, secure connectivity anywhere in the western hemisphere in 48 hours.
Support: When you need help simply call our 24x7x365 support number.
Billing: Instead of managing hundreds of vendors - get one, easy to read bill from GDS.