The 'Last Mile' Connectivity Problem and How to Solve It
Getting data from a data center to a remote user involves a complex system of WAN connections. A well-managed data center will likely have a high-performance connection to an Internet service provider's (ISP's) backbone with guaranteed bandwidth and SLAs. The data travels over the Internet backbone at high speeds.
Things slow down dramatically as the data nears the remote user. Depending on location, remote users will have access to a broadband or fiber-optic Internet service, 4G/LTE cellular, or satellite connectivity. These are shared services with fluctuating speeds depending on the amount of traffic traveling over the network. Bandwidth is not guaranteed and there generally are no SLAs in terms of latency and availability. This "last mile" connection often creates performance problems that impact the user experience.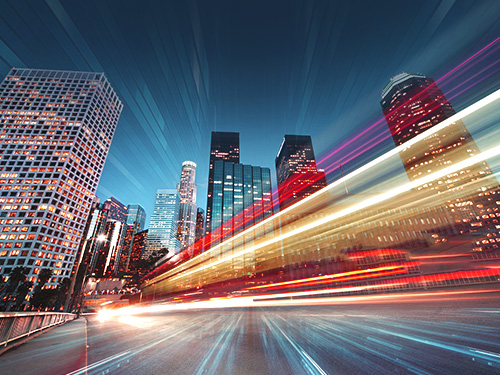 Understanding the Last Mile Problem
The term "last mile" is used in the transportation industry to describe the last leg of a route. Imagine a truck carrying goods from Chicago to New Orleans — for most of the journey, the truck will use the interstate system and travel at highway speeds. Once it gets into New Orleans, however, the truck will have to exit the interstate and travel smaller, more congested roads to reach its final destination.
Last mile connectivity problems can impact productivity, customer service and the user experience.
It takes a lot longer to complete that last leg than to travel a comparable distance on the interstate. That's because the posted speed limits are lower on city streets, and the streets have fewer lanes, so less traffic gets through. Because of the layout of the city, the truck cannot travel as the crow flies. The route requires multiple turns and multiple streets.
In networking terms, those factors correspond to throughput, bandwidth and complexity, all of which contribute to latency.
Network latency can cause:
Slow file downloads
Poor application performance
Quality of Service (QoS) issues with real-time services such as voice and video.
Many organizations focus on bandwidth when attempting to resolve network latency problems. A bigger "pipe" can reduce latency by moving more data, but performance it still constrained by throughput, the distance the data must travel and the number of "hops" along the way. As a result, greater bandwidth does little to improve QoS in latency-sensitive applications.
This is particularly true for the shared Internet services used for most last mile connections. The advertised throughput is the speed at which the customer's circuit connects to the ISP's backbone. Once traffic hits the oversubscribed network, it's going to slow down considerably. The onramp is wide open but the highway is congested with traffic.
The Right Solution to Last Mile Connectivity
So how do you solve the last mile problem? The best way is to leverage managed WAN connectivity services from GDS. We combine multiple last mile connections into one software-defined network with the intelligence to choose the best data path based upon availability, performance and cost. You gain a secure unified network capable of supporting all of your locations with elastic bandwidth to meet changing demands.
This holistic, turnkey managed IT solution also eliminates the headaches associated with provisioning and managing telecom services. GDS maintains interconnectivity agreements with carriers around the world, and provides expert 24x7x365 support and one simple bill for all services.
Last mile connectivity problems can impact productivity, customer service and the user experience. GDS resolves these issues with a fully managed, intelligent WAN that optimizes reliability and efficiency.
Benefits of Managed IT Services from Global Data Systems
Strategic Managed IT: We help you solve your technology related business problems.
Connectivity: We get you reliable, secure connectivity anywhere in the western hemisphere in 48 hours.
Support: When you need help simply call our 24x7x365 support number.
Billing: Instead of managing hundreds of vendors - get one, easy to read bill from GDS.