How the Right Technology Solutions Can Help Home Health Providers Weather Payment System Changes
In our last post we discussed the Patient Driven Groupings Model (PDGM), an overhaul of the way home health providers are paid by the Centers for Medicare and Medicaid Services (CMS). The new billing model creates hundreds of new categories for home health services, and implements a 30-day billing cycle to replace the current 60-day cycle. It also changes the way providers are assessed Low Utilization Payment Adjustments (LUPAs), and uses "behavioral assumptions" to identify providers that might structure services to maximize billing.
The new rules go into effect Jan. 1, and they're expected to have a dramatic impact on the home health industry. CMS has projected that payments for home health services will be cut by more than 6 percent in 2020. The shorter billing cycle will force providers to carefully manage revenue, as patients tend to need more services during the first 30 days. Many smaller providers, which often operate with razor-thin profit margins, will be forced out of business or consumed by larger entities through mergers and acquisitions.
Home health providers seeking to avoid that fate should consider technology tools that can help them reduce costs and operate more efficiently. For example:
Software-defined WAN (SD-WAN) solutions can enable highly reliable, cost-efficient connectivity. The right solution will automatically select the best available connection based upon network conditions and application requirements, and prioritize latency-sensitive applications such as voice and video conferencing.
Mobile and remote connectivity solutions ensure that workers in the field have access to the applications and data they need to be productive and better serve patients. This can also enable providers to utilize home-based workers for medical coding and billing functions.
A hosted phone system can provide advanced voice and collaboration services without upfront investments. Staff can access these services from their personal mobile devices to coordinate care. Home health providers with multiple locations could even consider a

hosted contact center

to improve communication and the patient experience.
GDS provides all of these services and more, fully managed and supported by our team of experts. We even provide one easy-to-understand bill for all services, simplifying budgeting and eliminating the need to scrutinize complex telecom invoices.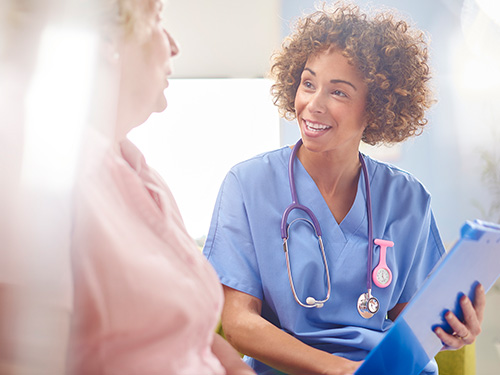 Opportunities for Cost Savings and Improved Efficiency
Every service we offer has integrated security features, and is monitored around the clock for malicious activity. We provide maximum protection for sensitive patient data and help ensure that critical IT resources aren't compromised.


Home health providers that are considering mergers and acquisitions can benefit from the expertise of GDS consultants. Cybersecurity assessments have become a critical part of the M&A process given that an undisclosed data breach can be a deal breaker for most companies. GDS can help companies detect and remediate security issues to alleviate these concerns. After the deal is consummated, we can help the combined entity integrate its IT systems and networks and identify opportunities for cost savings and improved efficiency.

There's no question that PDGM is game-changer for home health providers. However, providers that take steps to optimize their operations can weather the storm and even gain competitive advantages. Let GDS help you implement highly secure, fully managed technology solutions that can make your business more productive and profitable.
Benefits of Managed IT Services from Global Data Systems
Strategic Managed IT: We help you solve your technology related business problems.
Connectivity: We get you reliable, secure connectivity anywhere in the western hemisphere in 48 hours.
Support: When you need help simply call our 24x7x365 support number.
Billing: Instead of managing hundreds of vendors - get one, easy to read bill from GDS.