Helping Senior Assisted Living Facilities Use Technology to Keep Residents Connected
The COVID-19 pandemic has been especially hard on the nation's seniors. Because of the risk the coronavirus poses to older folks with health problems, many seniors have had to remain isolated from family and friends. Nursing homes, retirement communities and other facilities providing long-term care have been forced to strictly limit visits from outsiders to reduce the risk of spreading the disease.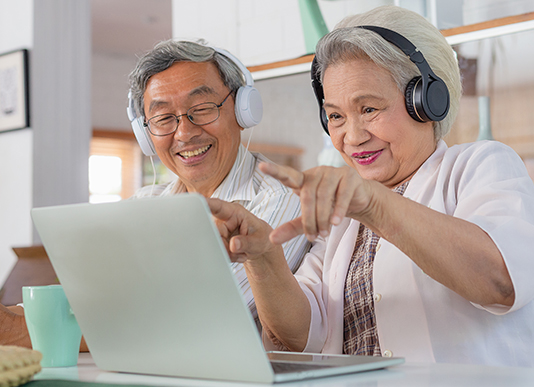 Video conferencing and other communication and collaboration tools can provide vital links that help seniors feel more connected. However, many facilities struggle with outdated networks that are unreliable and difficult to manage. Organizations that grow through acquisition often have disparate phone systems in each location, creating additional management headaches.
The budgets of senior care facilities are typically focused on clinical and safety needs, administrative requirements, and maintenance and upkeep. However, the right technology investments can help these organizations enhance their patients' mental and emotional wellbeing during this health crisis. Long term, technology promises to revolutionize the way care is delivered to our aging population.
Technology Challenges of Nursing Homes & Assisted Care Facilities
Many of today's seniors are tech-savvy, using multiple mobile devices in their daily lives. Care facilities with robust Wi-Fi capabilities allow their assisted living residents to connect their devices to the Internet while preserving their cellular data plans. Wi-Fi can also support network-connected monitors and other medical health devices. However, Wi-Fi networks must be carefully architected to overcome demanding site challenges and support growing numbers of users. Senior assisted living facilities often have small IT staffs that lack the resources to troubleshoot connectivity problems.
Of course, the WAN provides the vital link to the outside world. Unfortunately, many senior assisted living facilities utilize basic business Internet connections that lack the performance and reliability they need. Long term care organizations with multiple locations must manage dozens of service providers with inconsistent SLAs and confusing monthly bills for Internet, TV and voice services. Isolated legacy phone systems that do not interoperate hamper communication among locations.
Like other healthcare organizations, senior care facilities are often the targets of cyber attacks, data breaches and other types of cybercrime. Ransomware attacks in particular can prevent staff from accessing clinical and medical applications and even impact phone systems.
Video conferencing and other communication and collaboration tools can provide vital links that help seniors feel more connected.
We Understand The Managed IT Needs of Assisted Living Facilities
Global Data Systems understands the needs of senior care & assisted living facilities and can help them better leverage technology to keep their residents connected. GDS can implement a highly reliable, high-performing WAN across all locations in a consolidated connectivity solution that reduces operating costs and relieves management headaches. Our certified network engineers can also ensure that the Wi-Fi network is capable of delivering a high-quality user experience.
Many senior care & assisted living facilities with a mixture of phone systems are looking to implement a cloud-based business communication solution. The GDS nCONTACT Unified Communications solution is hosted in our enterprise data centers and fully managed by our experienced team. It provides voice, messaging, presence, conferencing and collaboration features in one seamless communications solution. What's more, senior care facilities get one simple bill for all voice, data and content services.
At GDS, we recognize that many in-house assisted living facility IT teams are stretched thin trying to manage complex infrastructure in multiple, geographically diverse sites. In addition to consolidating and standardizing the environment, GDS monitors and manages every solution we provide so that the internal IT team can focus on other priorities.
The top priority of senior care & assisted living facilities has been protecting their residents' health during the COVID-19 pandemic. However, a sense of connection with family and friends plays a vital role in overall wellbeing. GDS can help these facilities implement strategic managed IT solutions and services that enable connectivity, communication and collaboration and position them for future solutions that enhance the quality of care.
---
Benefits of Managed IT Services from Global Data Systems
Strategic Managed IT: We help you solve your technology related business problems.
Connectivity: We get you reliable, secure connectivity anywhere in the western hemisphere in 48 hours.
Support: When you need help simply call our 24x7x365 support number.
Billing: Instead of managing hundreds of vendors - get one, easy to read bill from GDS.