Why Cybersecurity Certifications Matter in These Challenging Times
The cybersecurity skills gap continues to plague organizations of all sizes. According to ISACA's State of Cybersecurity 2020 Part 1 report, 62 percent of organizations say their cybersecurity team is understaffed, and 57 percent say they have unfilled cybersecurity positions. There doesn't seem to be much hope for relieving this shortage - 70 percent say that more than half of applicants for cybersecurity positions lack needed qualifications.
Part 2 of the report found that 79 percent of understaffed security teams are less than confident in their ability to detect and respond to cyber security threats. Worse, 42 percent of organizations struggling to fill open cybersecurity positions are experiencing more cyber attacks in 2020.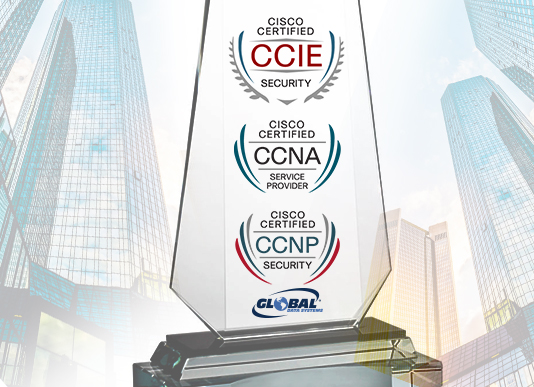 The report's author notes that cyberattacks have increased during the COVID-19 pandemic, and that finding skilled security personnel has only become more challenging. That's why it makes sense to partner with a qualified managed security services provider (MSSP). But how do you select the right provider for the job?
Choosing the Right Managed Services Provider (MSP) in a Crowded Field
The cybersecurity skills gap continues to plague organizations of all sizes.
There are two reasons why the cybersecurity skills gap has made it more difficult to choose an MSSP. First, the increased demand for MSSP service has led more IT providers to enter this space. Many of these newcomers won't have the experience and proven methodologies of an established firm such as GDS. And if finding skilled cybersecurity professionals is challenging, how can you be sure that the MSSP has the right qualifications?
Industry-recognized IT security certifications provide an objective measure of an MSSP's capabilities. The best managed IT certifications look beyond the knowledge and skills of individual engineers to the MSSP's internal processes, technology infrastructure, and ongoing training and development programs.
GDS Has Proven Cybersecurity Capabilities, Exceeding Requirements of MSP Verify Audit
Certifications from the MSPAlliance are designed to thoroughly evaluate the proficiency and experience of cloud and managed services providers delivering security solutions. GDS recently completed the organization's MSP Verify Certification with SOC 2 Type X Audit and was also awarded the organization's AAA Rick Assurance Rating.
The MSP Verify Certification is the first of its kind created specifically for MSPs and cloud providers. Reviewed by government agencies and regulatory bodies worldwide, the certification program is based upon the 10 control objectives of the Unified Certification Standard for Cloud and MSPs. The certification process is documented and validated by a third-party accounting firm, which provides a signed, written report. In addition to receiving the MSP Verify Certification, GDS exceeded the requirements of the SOC 2 Type 2 audit, which is based on the Unified Certification Standard as well as the Trust Services Criteria for Security and the Additional Criteria for Availability and Confidentiality (TSP section 100A – 2017). As with other substantive certifications of this type, the MSP Verify Certification must be renewed annually.
The MSPAlliance Cyber Verify Risk Assurance Rating is designed to provide customers with greater transparency and assurance when it comes to the cybersecurity practices of MSPs. It evaluates an MSP's internal service delivery security practices, business continuity, and many other characteristics that are important to customers seeking out professional and secure providers. To achieve the AAA rating, GDS had to complete a rigorous review over the course of several months. The Cyber Verify rating also must be renewed annually.
GDS Has Proven Credentials & Experience for Managed Security
Respondents to the ISACA survey said they emphasize experience (95 percent) and credentials (89 percent) when evaluating the capabilities of cybersecurity professionals. GDS has years of experience delivering robust security solutions and the industry-recognized credentials to prove it.
---
Benefits of Managed IT Services from Global Data Systems
Strategic Managed IT: We help you solve your technology related business problems.
Connectivity: We get you reliable, secure connectivity anywhere in the western hemisphere in 48 hours.
Support: When you need help simply call our 24x7x365 support number.
Billing: Instead of managing hundreds of vendors - get one, easy to read bill from GDS.