A Cyberattack Could Shut Down Your Business Tomorrow. Here's How to Minimize the Risk
Every year, the Ponemon Institute puts out its Cost of a Data Breach Report. The latest edition shows that the cost of a breach has risen 12 percent over the past five years and now totals $3.92 million on average.
Even for mid-market enterprises, that number can be hard to fathom. You might be thinking there's no way a data breach could cost upwards of $4 million.
So, let's put this another way: A cyberattack is an existential threat to your business.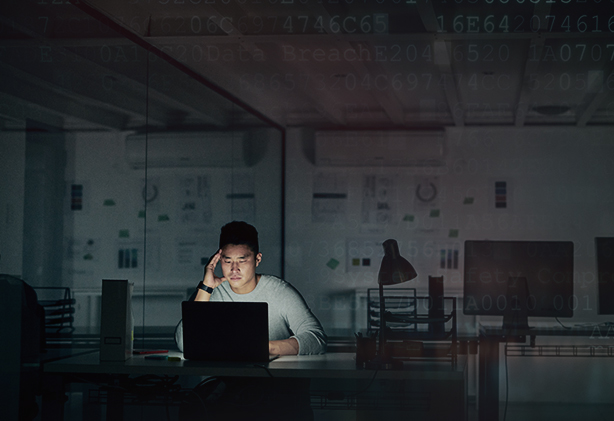 Cost of a breach has risen 12 percent over the past five years and now totals $3.92 million on average.
The Heritage Company
Consider the case of The Heritage Company, a telemarketing firm located just outside Little Rock, Ark. In October 2019, the company suffered a ransomware attack that encrypted its data and shut down critical systems. The company paid the ransom to get the decryption key but, not surprisingly, that didn't restore all of its data.
Recovery efforts were initially estimated to take one week, but went on for months at a cost of hundreds of thousands of dollars. Just before Christmas, Heritage Company laid off more than 300 employees because systems were still down. Although there remained some hope that the company might stay in business, employees were told on Jan. 2 to look for new jobs.
Companies fall victim to devastating cyberattacks by making three fatal assumptions:
They believe attackers primarily go after Fortune 500 enterprises.
They think they have enough protections in place to stop a cyberattack.
They presume they cannot afford more robust cybersecurity.
Let's address these one by one.
First, 53 percent of mid-market enterprises have experienced a breach, according to research by Cisco and the National Center for the Middle Market. One-fifth of these organizations say that breaches cost from $1 million to $2.5 million, with just 29 percent saying the cost is less than $100,000.
Second, mid-market firms tend to have a complex security environment made up of point solutions from multiple vendors, making it difficult to coordinate and analyze alerts. These organizations receive as many as 5,000 security alerts a day but only investigate 55.6 percent of them. They need comprehensive protection that's monitored and managed by experts, with a detailed plan for responding to cyber threats.
You say you can't afford that? If the alternative is to risk going out of business, you really can't afford not to implement a cybersecurity strategy. And you may be surprised at how affordable the right approach to security can be.
The cybersecurity professionals at GDS recognize the challenges facing midsize and large organizations. We understand that budgets are limited, expertise is lacking, and there are only so many hours in the day. It's all too easy to put cybersecurity on the back burner and forget about it — until the inevitable happens.
Cybersecurity Solutions for Mid-Enterprise Organizations
That's why we designed our cybersecurity solutions with organizations like yours in mind:
Our experts leveraged their experience to develop a cybersecurity strategy around the top threat vectors. This flexible yet focused approach allows us to implement a highly effective solution that provides comprehensive coverage without attempting to "boil the ocean."
We evaluated a wide range of security products and selected industry-leading tools that enable our strategy. We immersed ourselves in these products so that we could deploy them quickly and cost-efficiently, customizing as needed.
We bundled these products with all of the services needed to make them effective. That includes not only deployment, but around-the-clock monitoring, management and support. Cybersecurity truly becomes a set-and-forget operation that allows you to focus on your business.
Our Network Operations Center (NOC) serves as the focal point for these services. Our team uses state-of-the-art monitoring and management tools and well-established procedures to quickly respond to alerts and remediate threats.
Without end-to-end, up-to-date protections in place, a cyberattack could shut down your business. Let GDS minimize the risk that your business will become a statistic.
Benefits of Managed IT Services from Global Data Systems
Strategic Managed IT: We help you solve your technology related business problems.
Connectivity: We get you reliable, secure connectivity anywhere in the western hemisphere in 48 hours.
Support: When you need help simply call our 24x7x365 support number.
Billing: Instead of managing hundreds of vendors - get one, easy to read bill from GDS.