What is Wi-Fi 7 and When Will it Arrive?
Official approval of the seventh-generation Wi-Fi standard may be more than a year away. However, many organizations are already laying the groundwork for an upgrade. According to a survey by the Wireless Broadband Alliance (WBA), more than one-third of service providers, technology vendors and enterprise organizations plan to begin deploying new Wi-Fi 7 gear by the end of this year.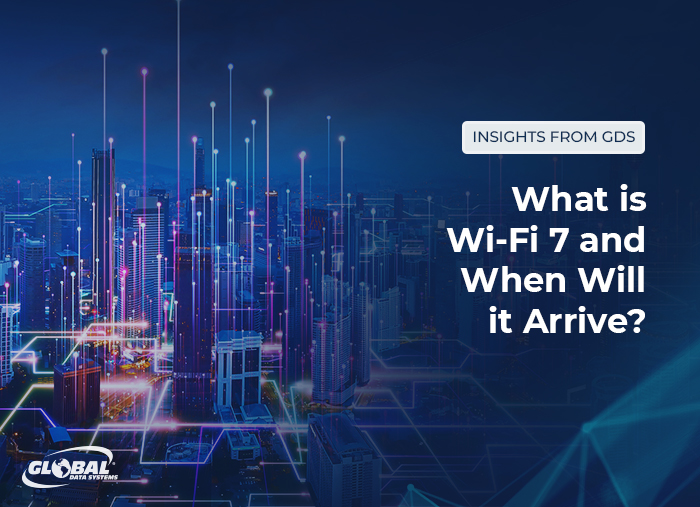 There is no specific release date for Wi-Fi 7, also known as 802.11be Extremely High Throughput. However, the Institute of Electrical and Electronics Engineers (IEEE) is expected to deliver final approval in mid-2024. With impressive improvements in speed, efficiency and security over previous standards, Wi-Fi 7 is expected to create a far more robust connectivity option for both businesses and consumers.
As usual with Wi-Fi updates, manufacturers aren't waiting for the official release of the standard. Wi-Fi 7-compatible chips, routers, repeaters and access points are already hitting the market. There's no real penalty for upgrading these devices before the final standard is released — manufacturers will integrate any feature changes later with firmware updates. Additionally, Wi-Fi 7 is backward compatible with Wi-Fi 5 and Wi-Fi 6 standards, so companies can continue to connect with older gear.
Wi-Fi 7's raw speed is expected to make it a hot commodity. Even before the standard is finalized, the market for Wi-Fi 7 gear is expected to reach $1 billion by the end of this year, according to a new analysis by ReportLinker. After that, the market is expected to grow at a stunning compound annual growth rate of 57.2 percent through 2030, reaching a total value of $24.2 billion.
These are the key features that will make Wi-Fi 7 a critical upgrade for almost any business:
Blazing Speed
With a projected maximum theoretical throughput of up to 46Gbps, Wi-Fi 7 is almost four times faster than Wi-Fi 6 and 6E and five times faster than Wi-Fi 5. This exceptional speed will support new time-sensitive networking applications, such as augmented reality and virtual reality, 4K and 8K video streaming, real-time telemedicine consultations, industrial automation and more.
Enhanced Efficiency
Wi-Fi 7 introduces a groundbreaking technology called Basic Service Set (BSS) Coloring, significantly reducing interference in densely populated areas with multiple Wi-Fi networks. Distinct colors, or identifiers, are allocated to various networks coexisting on the same channel, allowing devices to ignore signals from other networks that are not relevant to them.
Wi-Fi 7's raw speed is expected to make it a hot commodity.
Reduced Latency
Wi-Fi 7 reduces latency through Multi-Link Operation (MLO), which lets users simultaneously send and receive data over multiple radio bands. With older Wi-Fi standards, a device can only connect to one Wi-Fi band, either the 2.4GHz, 5GHz or 6GHz band. With MLO, devices can simultaneously send and receive data across different frequency bands and channels.
Better MU-MIMO
The last few versions have supported spatial multiplexing technology known as MIMO (multiple in, multiple out) and MU-MIMO (multiple-user MIMO). These technologies allow multiple streams of data to travel across different physical paths. Unlike those versions, Wi-Fi 7 supports both downlink and uplink MU-MIMO, enabling simultaneous communication with multiple devices in both directions. It also doubles the MU-MIMO streams from eight to 16. This boosts network efficiency and reduces latency, making it ideal for environments with numerous connected devices.
Stronger Security
Building on previous security enhancements, the new standard will support the Wi-Fi Protected Access 3 (WPA3) security protocol. In addition to strong 192-bit encryption, WPA3 features robust authentication mechanisms and intrusion detection capabilities. Wi-Fi 7 also enables features such as device tracking and location support that can help protect devices and data from being stolen or misused.
Now's the Time to Plan for Wifi 7
Wi-Fi 7 represents a significant leap forward in speed, connectivity, efficiency and security. If you're ready to begin planning for an upgrade to the new standard, give us a call.
---
Benefits of Managed IT Services from Global Data Systems
Strategic Managed IT: We help you solve your technology related business problems.
Connectivity: We get you reliable, secure connectivity anywhere in the western hemisphere in 48 hours.
Support: When you need help simply call our 24x7x365 support number.
Billing: Instead of managing hundreds of vendors - get one, easy to read bill from GDS.