When We Reach the End of the Pandemic, How Do We Get Back to Work?
Like young children a few minutes into a car trip, many of us are already wondering, "Are we there yet?" We're not, of course. Experts say it will be weeks before businesses can start allowing employees back into the office. Even after being given the "all clear" by state and local authorities, some employees will want to continue to work from home.
But one day business will start to get back to normal. The question then is: What does "normal" look like?
Let's go back to the car trip analogy. The journey may have its tedious and even scary moments, but the rewards are the places you'll see and the things you'll learn along the way. Companies should return from the pandemic journey with lessons learned and a fresh perspective.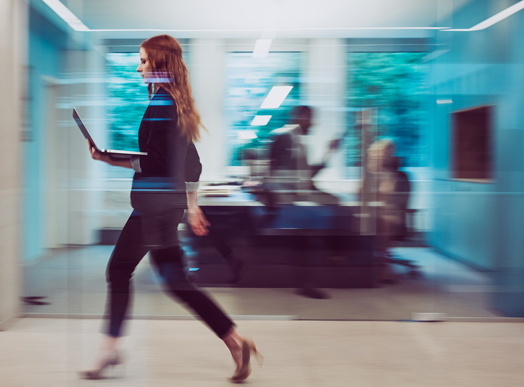 Lessons Learned: Reliable Connectivity is Critical
High-performance, highly reliable connectivity is critical. The Internet has proven remarkably resilient as huge numbers of Americans have began working from home and heavily using streaming media and other services to pass the time during quarantine. But WAN outages can occur for any number of reasons, and they can be devastating to business operations that rely on connectivity. A fully managed SD-WAN solution should be on every company's "must have" list.
Security doesn't end at the network perimeter. Work-from-home arrangements have provided cybercriminals with a greatly expanded attack surface and new vulnerabilities to exploit. While organizations still need a fully managed firewall and intrusion prevention solution at the network perimeter, security controls should extend to every device that connects to the network. Organizations also need email and web security that continually scans content and network traffic for malware and other threats.
Remote workers need support, too. Whether remote employees are using company-issued laptops or their own home PCs, they need responsive support when problems arise in order to stay productive. Additionally, remote workers are notoriously lax about keeping their PCs up-to-date and patched. Proactive managed services ensure that patches and updates are promptly applied to minimize security and compliance risks. Best-in-class managed services include 24x7 monitoring and rapid response to security events.
Fresh Perspectives Enable New Strategic IT Initiatives
Integrated collaboration tools deliver real business benefits. Many organizations have implemented collaboration tools to enable employees working from home to communicate and share information. Smart organizations will continue using those tools when employees return to the office. An integrated platform that combines voice, chat, presence and meeting services can increase productivity, improve decision-making and enable greater innovation.
A multichannel contact center enhances the customer experience. As organizations have shifted to online and remote communications during the pandemic, they're finding that customers want to engage using the channels of their choice. By implementing a multichannel contact center, organizations can meet customer expectations and deliver a high-quality customer experience.
Strategic IT initiatives can create a more agile, responsive business. Experts say that pandemics could become more frequent. Organizations should start preparing now by updating their disaster plans to address personnel disruptions and look at strategic IT initiatives that can enable more flexible operations. Hosted and fully managed solutions allow organizations to take advantage of enterprise-class tools with minimal capital investments or IT management overhead.
Companies should return from the pandemic journey with lessons learned and a fresh perspective.
Benefits of Managed IT Services from Global Data Systems
We're not there yet, but we will be before too long. What steps will you take to help your team get back to work and your business to thrive? GDS is here to help you develop a plan of action and implement solutions that will deliver competitive advantages for years to come.
Strategic Managed IT: We help you solve your technology related business problems.
Connectivity: We get you reliable, secure connectivity anywhere in the western hemisphere in 48 hours.
Support: When you need help simply call our 24x7x365 support number.
Billing: Instead of managing hundreds of vendors - get one, easy to read bill from GDS.