Tips for Securing Your Business as Employees Work from Home
In a previous post, we discussed the importance of enterprise-class conferencing and collaboration tools in any work-from-home strategy. As states shut down nonessential businesses and employees seek to maintain social distancing, collaboration tools help keep your company running by enabling staff to work remotely. The GDS nCONTACT Unified Communications-as-a-Service solution gives employees the tools they need to maintain productivity while they do remote work.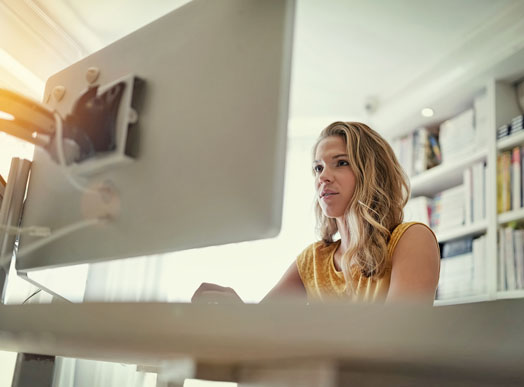 Secure Your VPNs
Equally critical is ensuring that remote workers have secure access to the applications, data and other IT resources they need. Unfortunately, many organizations are finding that their cybersecurity infrastructure isn't quite up to the task.
For example, organizations may not have enough virtual private network (VPN) connections to support everyone doing remote work. Additionally, the sudden spike in VPN usage can overload the network, leading to slowdowns and dropped connections.
As VPNs become the lifeline for remote workers, IT teams may be hesitant to install security patches and updates. Predictably, cybercriminals are taking advantage of this opportunity to exploit VPN vulnerabilities. In an alert issued on March 13th, the Department of Homeland Security's Cybersecurity Infrastructure Security Agency (CISA) warned that cybercriminals are targeting VPNs and advised organizations to keep their network and security infrastructure up to date.
The CISA alert also warned of an increase in phishing emails attempting to steal user credentials from remote workers. Security experts have noted targeted attacks on company executives who are working from home.
There are steps organizations can take to reduce the risk of security incidents as employees work from home:
Implement multifactor authentication for remote access. If cybercriminals steal usernames and passwords, they can gain access to the company network. MFA combines something the user knows (such as a password or PIN), something the user has (such as a token or mobile app) and/or something the user is (such as a fingerprint or other biometric identifier) to create an extra layer of security. Modern cloud-based MFA solutions greatly streamline implementation and management and simplify user access.
Secure all endpoint devices. Employees working remotely will likely be using their personal devices to access the network, greatly expanding the attack surface. Organizations should implement controls that require a minimum level of security for these devices. Traditionally, that meant loading software on a gateway appliance that devices access using client software. The GDS Advanced End-User Security Service protects endpoint devices without the complexity and latency of web gateways, and continuously monitors all processes and file activity to detect and mitigate threats.
Educate employees — but also protect them. Phishing attacks are a primary vector for cybercrime because end-users continue to fall for social engineering techniques. However, users who receive ongoing cybersecurity training are less apt to click on malicious links and attachments. These efforts should be combined with strong malware protection and content filtering. The GDS Web Security Service rapidly analyzes web traffic and uses threat intelligence to detect zero-day attacks and malware activity that attempts to evade traditional web security tools.
If your IT team is overwhelmed with supporting remote workers, GDS can help.
Monitor Remote Access
IT personnel should be prepared to monitor remote access and detect and respond to security incidents. If your IT team is overwhelmed with supporting remote workers, GDS can help. Our security solutions include all the hardware and software you need backed by expert monitoring, management and support.
Don't let your work-from-home strategy increase the risk of a security breach. Let GDS help you implement strong defenses that will secure remote access and protect vital systems and data.
Benefits of Managed IT Services from Global Data Systems
Strategic Managed IT: We help you solve your technology related business problems.
Connectivity: We get you reliable, secure connectivity anywhere in the western hemisphere in 48 hours.
Support: When you need help simply call our 24x7x365 support number.
Billing: Instead of managing hundreds of vendors - get one, easy to read bill from GDS.