GDS Conferencing and Collaboration Tools Help You Respond to Pandemic Crisis
As organizations worldwide prepare for the impact of the COVID-19 pandemic, many are temporarily closing offices and encouraging employees to work from home. This enables the "social distancing" that health officials say will help slow the spread of the virus.
Key to any work-from-home strategy is the right conferencing and collaboration tools. GDS is here to help with our nCONTACT™ Unified Communications-as-a-Service (UCaaS) solution.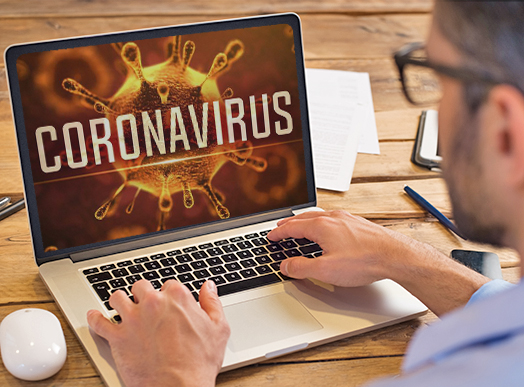 A successful remote work strategy will deliver clear benefits to your organization and your employees.
How nCONTACT™ Works
nCONTACT™ combines voice, chat, presence and meeting services in an all-in-one solution that can be accessed using virtually any device. The intuitive interface makes employees instantly productive, while enabling effective collaboration and information sharing. Geographically dispersed workers can meet regularly to serve customers, facilitate decision-making and keep projects moving forward.
With traditional on-premises phone systems, remote workers have little to no access to corporate communications features. At the other end of the spectrum are low-end cloud-based tools that lack the quality, reliability and security your business demands. nCONTACT™ is an enterprise-class solution hosted in hardened data centers and backed by expert support from GDS.
Rapid Implementation
GDS has the agility and resources to implement nCONTACT™ quickly to meet your business continuity requirements. We can also rapidly extend your wide-area network with our fully managed, secure SD-WAN solution, and provide mobile and remote connectivity services that include high-quality business communications.
Around-the-clock management, maintenance and support ensure the availability of your communications platform while minimizing the impact on your in-house IT team. We even provide you with one simple, monthly bill for all services across all locations.
Strategic Opportunity
Smart organizations will view pandemic response efforts as an opportunity to optimize their operations. The successful rollout of a work-from-home strategy can create a more agile work environment that delivers many long-term benefits.
According to research by the Agile Future Forum, an agile work environment can reduce workforce costs by up to 13 percent while enhancing talent acquisition and employee retention. Many employees prefer to work from home as long as they have the tools that they need to stay productive and engaged. In a recent survey, 86 percent of employees said they would change jobs to take advantage of more flexible work options.
You don't have to sacrifice customer service to create an agile work environment. In fact, cloud-based communication tools enable workers to be more responsive, which can improve customer, business partner and internal relationships.
Long-Term Solution
nCONTACT™ has the features and capabilities to meet your long-term business requirements. It is fully customizable with user- and role-based options that can be accessed through an easy-to-use self-service portal. Our flexible subscription model allows you to scale up or down as needed — whether you're a midsize organization or large enterprise. nCONTACT™ also allows you to maximize your existing investments in desk phone equipment while taking advantage of a cloud-based consumption model.
A successful remote work strategy will deliver clear benefits to your organization and your employees that continue to accrue long after the pandemic crisis is over. Let GDS provide your team with the tools they need to stay productive and engaged no matter where they are working.
Benefits of Managed IT Services from Global Data Systems
Strategic Managed IT: We help you solve your technology related business problems.
Connectivity: We get you reliable, secure connectivity anywhere in the western hemisphere in 48 hours.
Support: When you need help simply call our 24x7x365 support number.
Billing: Instead of managing hundreds of vendors - get one, easy to read bill from GDS.