Remote Work Is Here to Stay. Is Your Organization Prepared?
At least one positive thing has emerged from the COVID-19 pandemic: It has dispelled many longstanding doubts about the feasibility of remote work. In many cases, work-from-home models have increased productivity while reducing overhead costs and enhancing employee satisfaction. In a recent PwC survey, 83 percent of employers say the shift to remote work has been successful.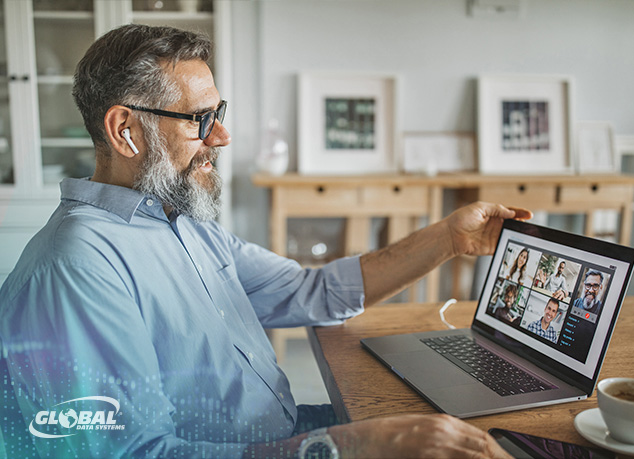 Less than 20 percent of business executives want to return to a pre-pandemic office environment, but only 13 percent are prepared to move to a fully remote workforce. More than two-thirds (68 percent) say employees should come into the office three to five days a week to maintain a strong company culture. The most likely long-term scenario is a hybrid environment that blends in-office and work-from-home models.
It's important to have the right IT strategy to support the hybrid workplace of the future. Many organizations set up remote work technologies quickly to meet immediate needs, and the gaps in this ad hoc approach are beginning to show. Here are four areas organizations should focus on to enhance their remote work strategy in the coming months:
Supporting work-from-home employees. In a recent survey of business decision-makers conducted by Wakefield Research, 94 percent of respondents reported remote work technology problems that impacted the business. Many in-house IT teams are feeling overwhelmed responding to increasing numbers of help desk tickets. Organizations need to ensure prompt support for remote workers without overburdening their IT staff.
Improving performance. Slow file downloads, poor quality video conferences and slow application response times were the most frequently cited technology issues affecting remote work. Existing IT environments and wide-area networks (WANs) aren't up to the task of delivering applications and services to work-from-home users. Organizations should consider strategic technology upgrades and proactive maintenance to improve performance.
Consolidating collaboration tools. Many organizations have a patchwork of communication and collaboration applications that have been implemented over time. Additionally, remote workers often adopt consumer-grade cloud-based services just to get the job done. By consolidating these tools onto an integrated communication platform, organizations can reduce costs and IT overhead, boost security and enhance the employee experience.
Work-from-home models have increased productivity while reducing overhead costs and enhancing employee satisfaction.
Beefing up security. Speaking of security, threats have increased dramatically since the pandemic began. Cybercriminals are taking advantage of lax security and the risky behaviors of remote workers. Organizations should refine their security strategy to address today's top threats, and implement a layered security approach with tools that protect both remote workers and the on-premises environment. Around-the-clock monitoring and incident response are also critical.
How GDS Can Help with Managed IT Solutions
The GDS suite of solutions and services is perfectly aligned with the hybrid work environment. We provide Virtual CIO services to help you establish your IT objectives and develop a roadmap for achieving your goals. Our experienced consultants can help your organization use technology to reduce costs, increase productivity and gain competitive advantages.
Our managed IT services include both infrastructure management and end-user support to ensure the optimal reliability and performance of your technology assets. We monitor your environment 24x7 and perform proactive maintenance that reduces the risk of IT issues. When problems do occur, we will respond quickly and professionally to minimize any impact on your operations.
We provide enterprise-class business connectivity solutions and a cloud-based communication and collaboration platform. Security is baked into everything we do, and our managed security services reduce risk through prevention, detection and response.
Remote work is here to stay. Is your organization prepared? Let GDS help you develop and implement the right strategy to take your operations into the future.
---
Benefits of Managed IT Services from Global Data Systems
Strategic Managed IT: We help you solve your technology related business problems.
Connectivity: We get you reliable, secure connectivity anywhere in the western hemisphere in 48 hours.
Support: When you need help simply call our 24x7x365 support number.
Billing: Instead of managing hundreds of vendors - get one, easy to read bill from GDS.