Certifications Provide Valuable Insight into MSP Proficiency
Many organizations use managed services providers (MSPs) for a range of basic IT services such as help-desk support, network monitoring, security updates, operating system patches, backup management and so on. While those are all important tasks, they don't begin to cover all the ways an MSP can support your business.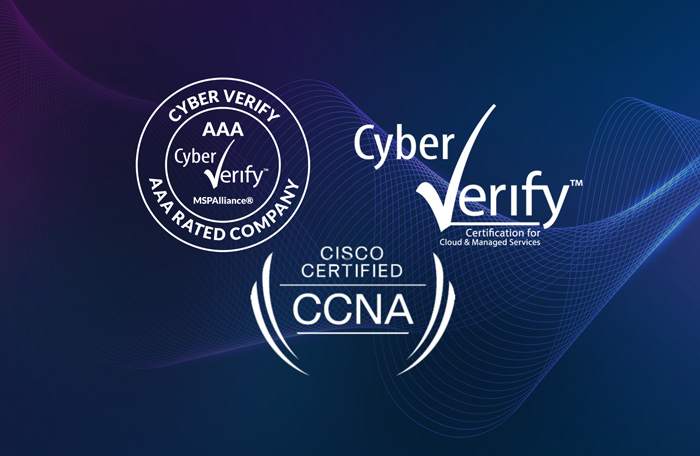 Approximately two-thirds of all businesses in the U.S. work with managed services providers (MSPs) to reduce costs, increase efficiency and bridge the widening IT skills gap. Choosing a provider is a big decision, however, and the evaluation process can be tricky for even the most tech-savvy businesses.
MSPs have provided essential IT support for decades, but there's no one-size-fits-all model. Providers can have wildly different levels of skill and expertise, ranging from pure-play MSPs that offer basic network and application monitoring services to high-level providers that can essentially operate your entire IT environment. In between, there are countless specialty MSPs that focus on particular applications or services such as security, cloud, connectivity or device management.
How do you determine which is the best fit for your company? Industry and partner certification programs provide valuable insight into the capabilities of potential technology partners. Certifications demonstrate that a provider has invested in the tools and training necessary to master specific technologies and services, and they give organizations a simple way to verify that an MSP has the resources and expertise they require.
Demonstrated Expertise
Leading providers usually have a variety of industry certifications that focus on specific technical skills, security standards or service methodologies, along with partner certifications that demonstrate expertise with products from specific IT manufacturers and vendors. For example, Global Data Systems has multiple industry certifications from the MSPAlliance as well as numerous certifications from key partners such as Cisco, Microsoft and VMware.
Certifications demonstrate that a provider has invested in the tools and training necessary to master specific technologies and services.
The MSPAlliance certifications, in particular, carry a lot of weight within the industry. The MSPAlliance is the world's largest industry association for MSPs and was the first organization to develop a standard of technical and operational best practices for its members. All alliance members agree to follow a strict code of ethics, which gives customers greater confidence that they are dealing with qualified and trustworthy providers.
GDS's MSPAlliance certifications include the MSP/Cloud Verify Program (MSPCV) and Cyber Verify. Both must be renewed annually, a process that requires verification by an independent accounting firm.
The MSPCV was the first certification created specifically for managed services and cloud providers. The certification process is documented in a written report that's validated and signed by a third-party accounting firm. You can read our report here. It also includes a summary of our SOC 2 Type 2 audit, which describes the internal controls we use to safeguard customer data and how well those controls are operating.
GDS Among Elite
Additionally, the Cyber Verify certification evaluates the security of a provider's internal service delivery processes as well as business continuity, cyber insurance usage and many other characteristics. GDS has achieved a "AAA" risk assurance rating — the highest of the association's three rating tiers. Less than 1 percent of the global MSP community has achieved a AAA Cyber Verify rating.
As a Cisco Gold Provider, GDS places great emphasis on having a deep bench of Cisco-certified employees. Our team members hold more than a dozen different Cisco certifications, including Cisco Certified Network Associate (CCNA), Cisco Certified Network Professionals (CCNP), Cisco Certified Internetwork Experts (CCIE) and Cisco Certified Design Associates (CCDA).
Our team also includes Microsoft Certified System Engineers (MCSE), VMware Certified Professionals (VCP), VMware Sales Professionals (VSP) and PMI Project Management Professionals (PMP). Click here for a complete list of our vendor and industry certifications.
Certifications aren't merely indicators of an MSP's expertise; they actually help build proficiency. The rigorous evaluation process forces providers to identify and eliminate any flaws in their operations, which fosters an emphasis on continual improvements that help support changing customer requirements.
Give us a call to learn more about our certification processes and ongoing efforts to gain proficiency in the technologies that provide the most value to our customers.
---
Benefits of Managed IT Services from Global Data Systems
Strategic Managed IT: We help you solve your technology related business problems.
Connectivity: We get you reliable, secure connectivity anywhere in the western hemisphere in 48 hours.
Support: When you need help simply call our 24x7x365 support number.
Billing: Instead of managing hundreds of vendors - get one, easy to read bill from GDS.