Multiple Cellular Carriers + SD-WAN = Seamless Connectivity for Mobile Workers
Workers in the oil and gas industry often travel long distances to inspect and maintain pipelines and equipment. Tugboat and towboat operators are constantly moving up and down inland waterways. Construction management firms must send workers from job site to job site to oversee projects.
The common denominator in these scenarios is the need for secure and reliable WAN connectivity while mobile. Workers in these industries need to stay connected to enterprise applications as well as communication and collaboration tools. That can be challenging in remote areas where wireless coverage is spotty.
Multicarrier connectivity is the answer. The idea stems from the mobile phones used by global travelers to minimize roaming charges or maintain a business line and a personal line on the same device. These phones are equipped with special SIM cards that support two to four service providers. Some can only accept calls from one carrier at a time, while Dual SIM Dual Active cards can support calls from two carriers simultaneously.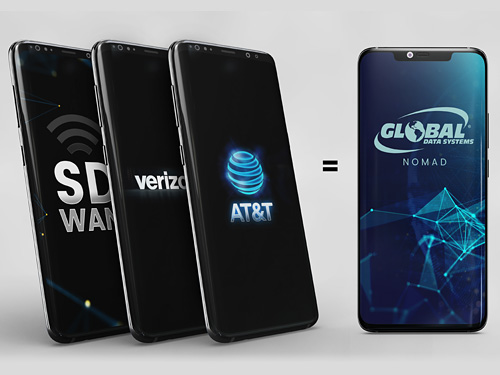 A software-defined WAN (SD-WAN) solution that leverages multiple cellular service providers enables seamless roaming in much the same way.
Organizations save money by minimizing roaming charges when workers move outside a particular service provider's coverage area. These fees can add up quickly if applications are constantly sending and receiving data. Multi-carrier solutions also optimize the data usage limits of each cellular plan, reducing the risk of overage fees or service throttling.
When the multiple cellular services are implemented in an "active-active" configuration, the SD-WAN solution can automatically switch to the best-quality connection in any given area.
The SD-WAN solution must be capable of monitoring each service for packet loss, jitter, latency or a dropped connection, and initiating a sub-second failover so that voice calls, video conferences and data connections continue uninterrupted. In some cases, the two cellular services can be aggregated to create one local connection with twice the bandwidth for enhanced performance.
The advantage of managed security services is having your security tools monitored and managed by a team of experts
Global Data Systems offers three SD-WAN solutions to support mobile workers and temporary sites:
NOMAD is an all-in-one solution that provides secure WAN connectivity anywhere there's a source of electrical power. It combines multiple cellular services along with other data transport options for 99 percent uptime. Designed for teams of up to 25 people, NOMAD also includes high-quality business communication services delivered by GDS. Plug-and-play simplicity means that remote sites get up and running quickly.
NOMAD-2GO offers many of the same features as NOMAD in a more compact unit designed for one or two people.
NOMAD-GOM is designed for offshore operations. Like NOMAD, it supports up to 25 people and incorporates satellite services for seamless connectivity.
Quality of Service Capabilities
All of these solutions feature Quality of Service capabilities to ensure an optimized user experience for voice calls, video conferences and other real-time applications. Network traffic is prioritized based upon application, use case, user profiles and other criteria.
Layered security features, including deep packet inspection, application-layer content filtering and other robust controls, help protect sensitive applications and data. And every GDS SD-WAN solution is backed by 24x7 management and support, and provides one simple bill for all connectivity services.
Your field personnel need seamless connectivity for communication, collaboration and data access. GDS mobile and remote solutions combine multiple cellular carriers and advanced SD-WAN technology for cost-efficient connectivity anywhere you need it.