5 Work-from-Home Security Lessons to Guide Your 2021 Security Strategy
The rapid shift to work-from-home models has largely been successful, enabling public- and private-sector organizations to keep functioning and meet social distancing requirements. The benefits have been so great that many organizations plan to offer remote work options after the pandemic has abated. A Cisco survey conducted between June and September 2020 found that 37 percent of organizations expect to continue work-from-home arrangements long-term.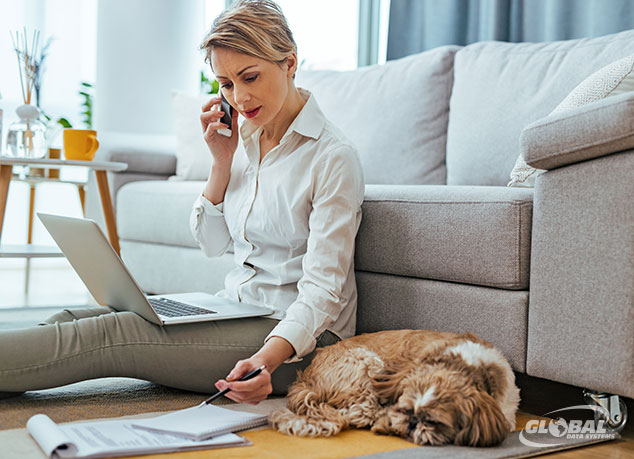 These organizations also recognize that cybersecurity must be part of their remote work strategy. The vast majority (89 percent) say that cybersecurity is a top-priority issue. However, more than half (53 percent) admit they are only "somewhat prepared" to secure work-from-home users.
Now's the time to take a step back and look at what we've learned about remote work security threats. By focusing on areas of greatest risk, organizations can fine-tune their security strategies to better protect users, applications and data.
Remote Work Security Threats
Cybersecurity must be part of your business remote work strategy.
Cybercriminals are opportunists who have taken advantage of security lapses during the transition to remote work. Almost two-thirds (61 percent) of respondents to the Cisco survey said they have seen threat activity increase by more than 25 percent since the pandemic began.
Security analysts noted an alarming increase in malware in 2020, with a related spike in phishing emails with malicious links and attachments. The payloads range from ransomware to remote access trojans (RATs) that are designed to give attackers access to the corporate IT environment through security weaknesses in endpoints. Attackers have also been exploiting vulnerabilities in collaboration apps to launch malware attacks.
Interestingly, organizations in architecture and engineering, chemical engineering, and education report the most significant increase in attacks, outpacing financial services, healthcare and software development. Cisco analysts believe that cybercriminals are after intellectual property as well as business disruption and financial gain.
Key Takeaways
In light of these threats, organizations should consider the following steps to secure their remote work environments:
Beef up endpoint protection. Having antivirus software installed on remote PCs, laptops and mobile devices isn't enough. Organizations need endpoint detection and response solutions that continually monitor for malicious activity and blocks threats that get past initial defenses.
Use enterprise-class collaboration tools. Many remote workers have been using consumer-grade collaboration tools that they downloaded for free. Organizations should standardize on enterprise-class solutions that provide the security controls needed to protect sensitive data and maintain regulatory compliance.
Beware of insider threats. Insider threats aren't just caused by malicious users. In fact, most are caused by negligent users who fail to follow security best practices. Organizations can reduce the risk of insider threats by blocking malicious email, filtering malicious URLs and other content, and implementing encryption and data loss prevention tools.
Take advantage of automation. Even large organizations are struggling to keep up with the barrage of events and alerts generated by security tools. Automation can help relieve this burden by analyzing threats and taking action based upon security policies. Of course, it's still important to have human experts on hand to implement an incident response plan.
Ensure WAN security. With employees connecting to the corporate IT assets remotely, it's more important than ever to have a highly secure WAN. Software-defined WAN services that incorporate robust security can help ensure that your IT environment is protected.
GDS offers a fully managed security, collaboration and networking solutions that can help you take advantage of the benefits of remote work without the risks. Let us help you apply 2020's work-from-home security lessons to your 2021 security strategy.
---
Benefits of Managed IT Services from Global Data Systems
Strategic Managed IT: We help you solve your technology related business problems.
Connectivity: We get you reliable, secure connectivity anywhere in the western hemisphere in 48 hours.
Support: When you need help simply call our 24x7x365 support number.
Billing: Instead of managing hundreds of vendors - get one, easy to read bill from GDS.