The Importance of Backup and Recovery Following a Natural Disaster
During the first nine months of 2023, the U.S. experienced 24 natural disasters with damages exceeding $1 billion each — the most since the National Oceanic and Atmospheric Administration began tracking such events in 1980. The numbers reflect a troubling trend, with eight of the 10 worst years for billion-dollar disasters occurring in the past decade.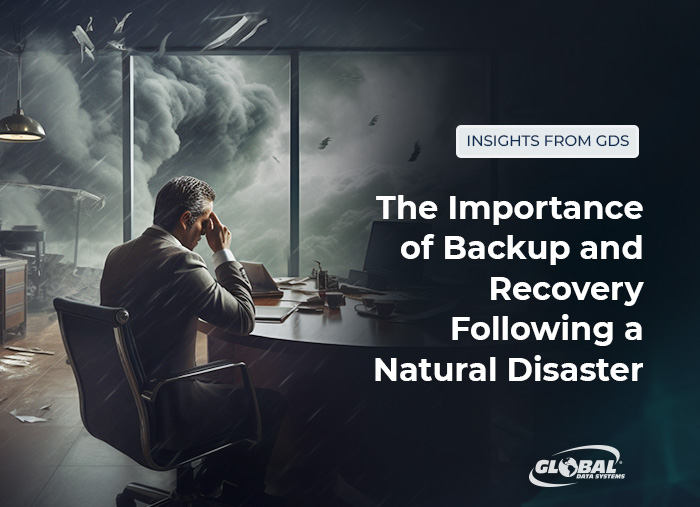 As wildfires, winter storms, hurricanes, tornadoes, flooding and other disasters increase in frequency and intensity, businesses need to consider natural disasters a core business risk and plan accordingly. A robust backup and recovery strategy should be a fundamental element of that plan.
Although hardware failures, human error and cyberattacks are far more likely to cause data loss, organizations can't afford to discount the possibility of a rare natural disaster. The potential consequences are just too extreme. In addition to data loss, natural disasters can cause extensive damage to data centers, storage facilities and other physical infrastructure. That's one reason why 25 percent of businesses fail to reopen following a disaster, according to the Federal Emergency Management Agency.
Augmenting In-House Backup & Recovery
Regular backups ensure that critical data can be recovered in the event of a disaster, minimizing downtime and financial loss. The first step in the backup process is to identify what data needs to be backed up and how often it should be backed up. These factors are then codified through two key concepts — recovery time objectives (RTO) and recovery point objectives (RPO). RTO is the maximum allowable downtime for your systems and applications. RPO is the maximum tolerable amount of data loss since the previous backup.
A geodiverse backup stores data in multiple distant locations, ensuring protection against localized disasters, and supports robust disaster recovery plans.
However, traditional in-house backup and recovery solutions are increasingly inadequate for most organizations. Organizations commonly use 10 or more legacy backup solutions with separate processes and management systems. Developed for conventional on-premises backups, these legacy solutions are unsuitable for today's remote and hybrid work environments, with data spread across multiple data centers, cloud platforms, edge servers and endpoint devices.
Cloud backup solutions augment in-house tools to help ensure critical data survives even if on-premises infrastructure is damaged or destroyed. Cloud backup providers typically maintain data centers in multiple geographic locations, ensuring your data is stored in a location separate from your primary data center. If a disaster affects one data center, the data can be readily restored from a different, unaffected location.
Cloud providers also invest heavily in technologies such as data replication, mirroring and distributed storage to ensure that data is highly available and resilient to hardware failures and disasters. If one data center is damaged, data can still be recovered from backup copies stored in multiple locations.
Automation and Immutability
Increased automation and data-reduction technologies are other benefits of cloud backup. Regular backups occur automatically, without manual intervention, ensuring data consistency and minimizing human error. Data-reduction techniques such as deduplication and compression eliminate redundant data and reduce storage requirements, accelerating data transfer and recovery times.
Cloud backup also allows you to create immutable backups that cannot be modified in any way, even by an administrator. This ensures you have a clean version of data that is always recoverable and safe from any disaster. Immutable backups can be part of a "3-2-1" data protection strategy that calls for three separate copies of data, with two stored on different types of media and the immutable backup stored in the cloud or at another offsite location.
Enhance Disaster Preparedness with GDS Geodiverse Backup Solutions
Backup and recovery are essential elements of disaster preparedness, but outdated tools and techniques make it difficult to protect increasingly distributed data sources. Adding a backup from cloud element with increased automation and data protection features can facilitate a rapid recovery from devastating floods, fires and storms. Contact us to learn how to enhance your data protection capabilities with our Geodiverse Secure Backup solution.
---
Benefits of Managed IT Services from Global Data Systems
Strategic Managed IT: We help you solve your technology related business problems.
Connectivity: We get you reliable, secure connectivity anywhere in the western hemisphere in 48 hours.
Support: When you need help simply call our 24x7x365 support number.
Billing: Instead of managing hundreds of vendors - get one, easy to read bill from GDS.