On-Prem, Hosted or Managed VoIP: Which is Best for You?
Surveys find that up to 80 percent of organizations now use VoIP (Voice over Internet Protocol) for business communications. That's not particularly surprising — it's a proven and reliable technology that has been providing flexible, creative and cost-efficient communication and collaboration options for going on three decades.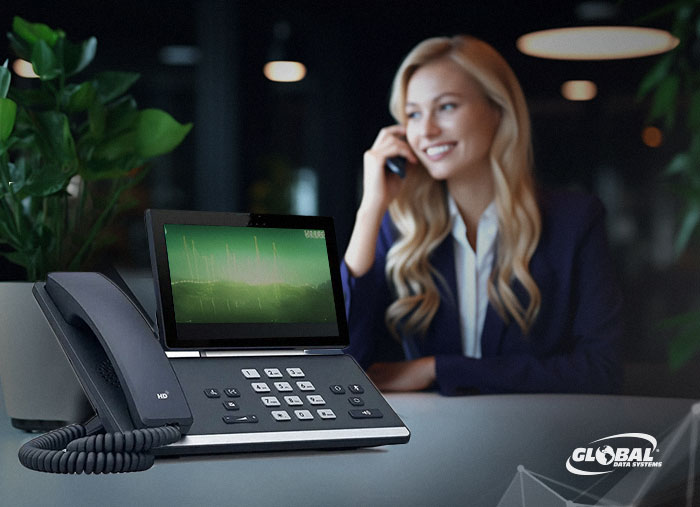 Switching to VoIP is an easy decision for most organizations. Deciding the best way to deploy VoIP can be more difficult, however.
There are three major deployment options to consider — on-premises, hosted or managed VoIP. While each offers substantial business benefits, understanding their differences can help you decide how to best implement VoIP to meet your unique requirements.
Here's a closer look at each option:
On-Premises VoIP
With an on-premises VoIP system, your organization will need to purchase, deploy, operate and maintain all of your own equipment. This includes servers, routers and an IP-PBX that converts analog voice signals into digital data packets that can be routed across the public Internet.
There are three major VoIP deployment options to consider — on-premises, hosted or managed VoIP.
An on-premises solution may provide greater control over the telephony environment, including the ability to manage features, expansion and security. Organizations may have greater flexibility to develop custom solutions to meet specific requirements. If the organization has in-house expertise, an on-premises solution may also deliver lower monthly recurring costs for management and maintenance services.
However, organizations lacking that expertise could wind up with a poorly performing system that does not meet their needs. In addition, on-premises solutions involve significantly higher initial equipment and setup costs as well as higher long-term maintenance costs.
Hosted VoIP
A hosted solution delivers all the features and benefits of VoIP without the management burden. It is a cloud-like delivery model in which all equipment and functions normally associated with an IP-PBX are hosted by a service provider and accessible to the customer through an Internet portal. Service is typically delivered on a simple per-seat, per-month basis, and upfront costs are a fraction of those for traditional PBX equipment. Because a service provider owns the equipment, organizations are relieved of the risks of equipment obsolescence.
With the service provider monitoring the system around the clock, a hosted solution also provides a high degree of confidence that performance issues will be resolved rapidly. Most providers also offer continuity plans that provide redundancy and disaster recovery for customer calls and data.
One drawback to a hosted solution is the lack of customization. Hosted VoIP providers are unlikely to change or adapt services for individual users, although some will customize feature sets for businesses.
Managed VoIP
On-site VoIP as a managed service is another option that combines some features of both on-premises and hosted deployments. With this arrangement, an on-premise IP-PBX is remotely managed by a provider, relieving your staff of ongoing management and maintenance tasks. This option provides the simple deployment and cost savings of a hosted VoIP option along with the control and customization benefits of an in-house system.
A benefit of this option is that you have dedicated software and hardware specifically configured for your business. Hosted solutions, in contrast, are usually deployed in shared environments where multiple businesses may be using the same hardware and software.
Contact GDS
VoIP has become an essential tool for organizations of all sizes. Its cost savings, flexibility, productivity and collaboration benefits make it a must-have communication tool. If you're looking to modernize your business communications infrastructure, contact us to evaluate your VoIP options. We've been at the forefront of IP communication options for nearly 30 years and can help you choose, implement and manage a solution that will support your needs for years to come.
---
Benefits of Managed IT Services from Global Data Systems
Strategic Managed IT: We help you solve your technology related business problems.
Connectivity: We get you reliable, secure connectivity anywhere in the western hemisphere in 48 hours.
Support: When you need help simply call our 24x7x365 support number.
Billing: Instead of managing hundreds of vendors - get one, easy to read bill from GDS.