Managed Co-Location for Workloads that Can't Move to the Cloud
The COVID-19 pandemic has accelerated adoption of cloud applications and services to support remote operations. According to new data from Synergy Research Group, spending on cloud services saw 28 percent year-over-year growth in the third quarter of 2020 alone — about three percentage points greater than would have been expected under normal circumstances.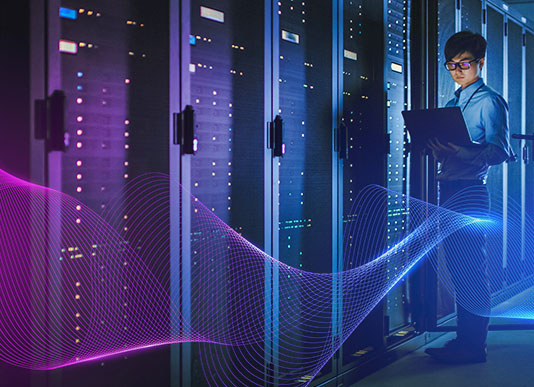 That doesn't mean that the corporate data center is going away anytime soon. While the cloud offers many benefits, it's not appropriate for all applications. Some workloads must remain on-premises to meet performance, security or regulatory compliance requirements.
However, maintaining an on-premises IT environment is difficult and expensive. The purchase price of IT equipment represents as little as one-quarter of the total cost — implementation, maintenance and management make up the remaining three-quarters, according to Gartner. There are also real estate, power and cooling costs, as well as the salaries and benefits of the personnel needed to keep everything up and running.
A fully managed co-location arrangement can offer relief from these costs and headaches. Best-in-class providers such as GDS host your IT equipment in their facility and provide around-the-clock monitoring and management to ensure that your environment is secure and performing optimally.
Moving Off-Premises
Gartner analysts say that co-location arrangements are an increasingly popular alternative to the traditional on-premises data center. Moving to a co-location facility frees up space and eliminates many operational costs. More importantly, co-location services offer the benefits of a hardened facility with robust security controls. Redundant infrastructure and network connections increase availability and reliability.
A fully managed co-location arrangement can offer relief from the costs and headache of an on-premise IT environment.
A recent study conducted by Precision Factor found that nearly 90 percent of organizations with in-house data centers plan to move workloads off-premises over the next three years. Cost wasn't the only factor — nearly 60 percent said that the time required for routine maintenance management prevented in-house IT teams from working on business-enabling initiatives.
Traditional co-location services won't free up your IT staff, however. While the provider is responsible for managing and maintaining the co-location facility, you still have to manage your systems and applications. Some facilities do provider "smart hands" and "remote hands" services but these come at additional cost.
Fully managed co-location services are a better choice. In this model, a managed services provider (MSP) provides 24x7 monitoring, management and support for your equipment hosted in the co-location facility. It provides all of the benefits of managed services while also eliminating the cost and complexity of operating a data center.
How GDS Can Help with Co-location Services
GDS delivers fully managed co-location services that meet the most stringent requirements. Our enterprise-class data centers are staffed 24x7 and secured by card-key access and closed-circuit video cameras. Our power and cooling systems provide N+1 redundancy with full failover capabilities to ensure your systems stay online. We also provide multiple connectivity options that are fully managed by GDS to maximize availability.
But the GDS solution is much more than just data center space. Our team monitors your environment around the clock and performs proactive maintenance to optimize performance and reduce the risk of downtime. We also offer assessment, planning and logistical services to ensure the successful migration of your equipment.
Cloud adoption is on the rise, but the cloud isn't the right choice for every workload. On-premises IT equipment allows you to maintain control over your applications, but that control comes at a high price. GDS offers the best of both worlds with co-location services that are fully managed by our experts. Let us help you transition to our data center environment so you can focus on your core competencies.
---
Benefits of Managed IT Services from Global Data Systems
Strategic Managed IT: We help you solve your technology related business problems.
Connectivity: We get you reliable, secure connectivity anywhere in the western hemisphere in 48 hours.
Support: When you need help simply call our 24x7x365 support number.
Billing: Instead of managing hundreds of vendors - get one, easy to read bill from GDS.