The Business and IT Benefits of Moving Your Network to the Cloud
Networking has historically been hardware-centric, with organizations deploying stacks of routers, switches and security appliances. The result is a highly complex environment that is managed manually on each device. Inflexible legacy network architectures make it difficult to implement new applications and services or scale the environment to meet changing demands.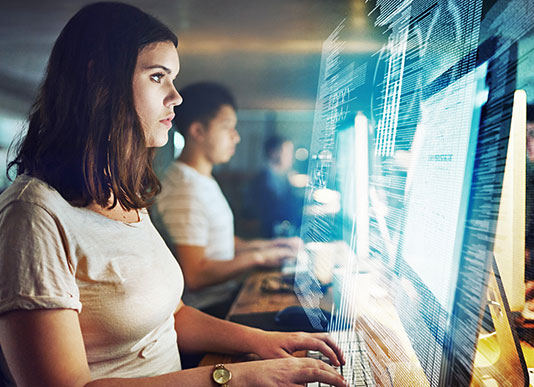 The traditional network is also ill-suited to cloud-based services and remote work. Users expect always-on connectivity to the resources they need no matter where those resources are located. Applications and data must be protected in motion and at rest, not just at the perimeter. Networks must be capable of dynamically managing and protecting data flows.
Cloud-based networking can relieve these challenges. Virtualized network resources are moved to the public cloud, a private cloud or a hybrid combination of both. The network benefits from the agility and scalability of the cloud, with the ability to deliver consistent services and security throughout your environment.
How Cloud Networking Works
Network devices are just specialized computers that are designed for specific functions. Those functions can be virtualized and run on industry-standard servers in a public or private cloud. As with server virtualization, network virtualization enables services to be implemented quickly and managed using policies deployed in software.
Any network or security function can be delivered virtually via the cloud. The difference is that the cloud-based network provides near-infinite scalability, end-to-end visibility, and centralized management and control.
Users access cloud network resources through a secure WAN connection. Onsite hardware is still required to provide the WAN link as well as wired or wireless connectivity for local devices. However, the amount of hardware is reduced significantly, and it can all be managed through a web-based console.
Cloud networking simplifies management of the network environment.
Benefits of Cloud Networking
Cloud networking enables you to avoid the capital expense of purchasing networking gear. Upgrades and new features can be implemented through software without the cost and business disruption of deploying new devices.
More importantly, cloud networking simplifies management of the network environment. Instead of making changes in hardware on a box-by-box basis, you can use software to manage all devices globally. This greatly reduces the risk of errors that can cause service disruption or leave open security holes. In addition, security policies can be implemented and enforced consistently across your environment. Organizations with multiple branch locations will find this especially valuable.
Fully managed IT solutions take this a step further. A qualified managed IT services provider can deliver cloud-based networking and provide 24x7 monitoring, management and support. Your in-house team is freed to focus on business-enabling initiatives instead of managing the network.
How GDS Can Help
GDS is excited to announce the rollout of a fully managed cloud-based networking solution that checks all the boxes in terms of reliability, performance and ease of use. This IT solution builds upon our core expertise in wide-area networking and leverages the capabilities of our state-of-the-art data centers and network operations centers.
Designed for customers with limited or no IT staff and five or fewer remote sites, the solution features a cloud-based network controller, advanced security tools and remote access capabilities. Onsite equipment includes a WAN port that connects to a GDS-provided circuit and a 48-port Layer 2 Power over Ethernet (PoE) switch to connect endpoint devices. An 802.11ac wireless LAN access point (AP) is also provided to support up to 125 users.
Everything is managed by GDS experts using state-of-the-art monitoring and alerting tools. Let us move your network to our cloud so you can focus on running your business.
---
Benefits of Managed IT Services from Global Data Systems
Strategic Managed IT: We help you solve your technology related business problems.
Connectivity: We get you reliable, secure connectivity anywhere in the western hemisphere in 48 hours.
Support: When you need help simply call our 24x7x365 support number.
Billing: Instead of managing hundreds of vendors - get one, easy to read bill from GDS.