Free your IT team to focus on Strategy Instead of Support
GDS Managed Desktop Support Services relieve the burden for your IT teams in supporting your company's end-users so they can focus on the business.
Fully monitored maintenance/support
Reliable real-time/historical reporting
Securely managed environment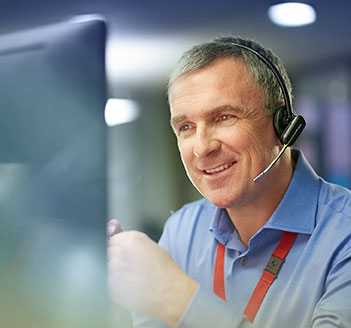 Problems It Solves
Desktop maintenance and support headaches
Productivity lost due to desktop downtime
Unpatched security vulnerabilities
Slow response to security events
Asset management challenges
Desktop PCs are the tools of the trade for most businesses, delivering the processing power, storage capacity and user experience workers need to perform their jobs. Desktops also create a substantial operational burden for IT teams. Patching, updating and managing PCs and supporting end-users is a resource-intensive process, leaving companies to choose between working on computers and advancing their business objectives.
Managed Desktop Support Services from GDS maximize the performance, security and reliability of your desktops while freeing your IT team to focus on strategic initiatives. We continually monitor your desktops, perform proactive maintenance, and manage security events and alarms. The service includes remote desktop support, an end-user support portal, and real-time and historical reporting on the health of your desktop environment.
GDS also provides strategic asset management services to help you make better decisions about desktop maintenance and upgrades. The solution is particularly well-suited for organizations with remote offices that lack in-house IT support.
Our Managed Support Solutions enable you to:
Ensure that your desktops are secure and performing optimally
while relieving the burden on in-house IT staff. Ongoing monitoring of security events, service levels and application metrics enables proactive response to issues.
Provide end-users with responsive 24x7 support
across all of your locations. Our highly trained staff can rapidly identify and troubleshoot problems to minimize productivity-killing downtime.
Gain insight into the overall health of your desktop environment
through real-time dashboards and historical reporting.
Stay on top of emerging security threats
and respond more rapidly to security events impacting the desktop environment. The GDS team will promptly apply patches and updates to minimize vulnerabilities.
Develop desktop PC standards
that simplify management and support while ensuring various user profiles have the resources they need.
Better manage hardware and software inventory
to reduce security and compliance risks, rein in costs, and streamline desktop upgrades and new software rollouts.
Give Your IT Team the Freedom to Grow

Let us assist you with our management services