Global Data Systems Helping Healthcare Industry During The Covid-19 Pandemic With Secure "Remote Telemedicine" IT Solutions
GDS is known for its quality collaboration and secure connectivity services allowing communications anytime, anywhere
Lafayette, LA, March 31, 2020 – Global Data Systems, a leading managed service provider, announced today that it is providing secure "remote telemedicine" IT solutions to the healthcare industry during the COVID-19 pandemic. GDS is considered an essential business provider as it continues to provide critical services to Healthcare, Oil & Gas and Government, including secure connectivity and collaboration solutions.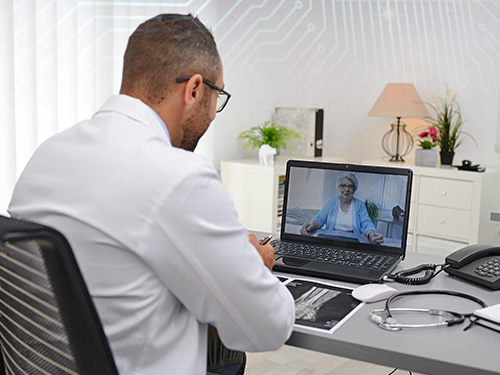 The healthcare industry continues to play a crucial part in helping patients get the proper care needed to overcome this illness. With another 30 days added to the "stay at home" instructions by President Trump, healthcare organizations need a means of reducing visits to the doctor's office and emergency room. Cloud-based video conferencing tools can enable a telemedicine approach through virtual office visits and consultations, minimizing the risk that an infected patient will expose others to the virus.
"Telemedicine is bridging the gap between patients and healthcare professionals during this crisis," said Chris Vincent, President of Global Data Systems. "It is the ultimate tool to help reduce the spread of the virus while still providing a personal interaction with the healthcare provider. It promotes safety for both the patient and the medical staff."
As experts in secure remote telemedicine solutions, GDS is helping to enable the healthcare industry to securely:
Screen patients remotely rather than having them visit the practice or hospital
Triage patients with other cold and flu-like symptoms, reducing patient risk of being infected with COVID-19
Provide routine care for patients at high risk if exposed to the virus
Protect medical staff from virus exposure so they are available to treat other patients when needed most
If you are in the healthcare industry and are in need of a secure remote telemedicine solution, please contact Global Data Systems at 888-435-7986 or visit https://www.getgds.com/COVID-19.
# # #
About Global Data Systems
For more than 30 years, we have helped businesses improve the way they work by implementing first-class, end-to-end IT services and solutions.
Connectivity, Voice & Collaboration, Managed IT, Security, and Cloud Services are just some of the solutions we provide, but serving people is what we do. We are here to help you with the technology you need to securely connect people, places and things anytime, anywhere. If you would prefer to focus on strategically growing your business , we are here for you. We Serve People by Making IT Simple.
Global Data Systems is headquartered in Lafayette, LA, with additional offices of sales and technical personnel in Baton Rouge, LA, New Orleans, LA, Lockport, LA, and Houston, TX.
# # #
If you would like more information about this release, please contact Jamie Guidry, Marketing & Communications at 985.242.5104 or email at This email address is being protected from spambots. You need JavaScript enabled to view it..