Public Utility Case Study
GDS delivers a range of connectivity, communications and managed services to help a public utility protect its assets and streamline operations
Discover how Global Data Systems (GDS) transformed a Louisiana public utility's IT landscape, fortifying security, enhancing communication, and ensuring unwavering performance and reliability. From post-9/11 security challenges to a 20-year partnership, GDS has been the cornerstone of this utility's technology evolution.
In this case study, you'll learn about the benefits this company achieved through partnering with GDS:
Robust Security: GDS addressed stringent security mandates, upgrading the network, and implementing high-speed circuits to safeguard critical infrastructure.

Revolutionized Communication: GDS transformed the utility's communication with IP-based phone systems, centralizing customer support, and enabling flexible remote work.

Seamless Connectivity: GDS's data center infrastructure, firewalls, and wireless access points provided secure, remote access, supporting evolving needs.

Unrivaled Reliability: GDS offers 24/7 managed services, ensuring immediate response to disruptions and priority support through strong carrier relationships.

Strategic Expertise: GDS's engineering know-how and strategic consultations help overcome technical challenges and develop robust security strategies.
Learn about how our 20-year partnership evolved to encompass every aspect of their IT environment, making GDS an indispensable resource for protecting critical infrastructure and fostering effective communication.
Download the full case study to learn how GDS can deliver similar results for your organization.
Let GDS help you solve your managed services problem -
Call 888-435-7986 or Contact us Now >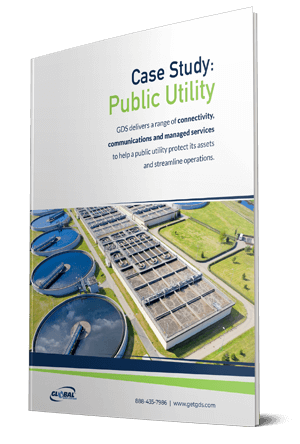 Discover how GDS fortified critical infrastructure security, ensuring compliance
See how GDS streamlined communications
Learn how GDS provides 24/7 support safeguarding the utility's IT environment