When Ransomware Strikes
A look at two dramatically different business outcomes from companies that dealt with ransomware
About This Whitepaper
Ransomware is one of the top threats that organizations face today. Cybercriminals can obtain thousands of dollars from organizations desperate to regain access to their data.
Even if an organization refuses to pay the ransom, it is likely facing millions of dollars in downtime, data loss and business disruption.
This whitepaper gives you deeper insights into the problem of ransomware and helps you understand how you can protect your business.
What You'll Learn
You'll learn what ransomware is and how it can affect your business.
You'll see two different scenarios of two separate businesses: one that had a ransomware protection plan in place and one that didn't, costing them millions.
Discover what you can do to protect your business from ransomware.
With more than 30 years of experience, GDS has the proven ability to develop solutions that precisely meet your business objectives. We are committed to excellence in service delivery, from solution design and implementation through simplified billing.
GDS can help you protect your business from online threats cyberattacks & ransomware - Call 888-435-7986 or Contact us Now >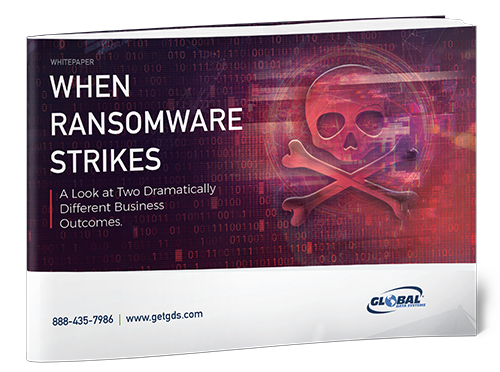 Fill Out the Form Below

to Download This Whitepaper

Written by

Ransomware & Industry Experts
Our writing team has over 10 years in the industry
This whitepaper offers deep insights based on our experience in the industry
Our whitepaper resources seek to educate our clients on topics that affect their business