Healthcare Security Strategy: A Defense-In-Depth Approach
Healthcare organizations are facing unprecedented cyber threats - combined with minimal security budgets and staff it's a recipe for disaster.
About This Whitepaper
This whitepaper will explain how a defense-in-depth strategy based upon fully managed security solutions can enable healthcare organizations to boost their security posture efficiently and cost-effectively.
Download and read this whitepaper now to get these deep insights into this topic: healthcare security strategy.
What You'll Learn
Learn about the top cyber threats your healthcare organization faces in the always changing threat landscape
Learn how to implement a defense-in-depth strategy to protect yourself
Discover the security tools that provide the best defense against cyber threats.
With more than 30 years of experience, GDS has the proven ability to develop solutions that precisely meet your business objectives. We are committed to excellence in service delivery, from solution design and implementation through simplified billing.
GDS can help you protect your business from online threats cyberattacks & ransomware - Call 888-435-7986 or Contact us Now >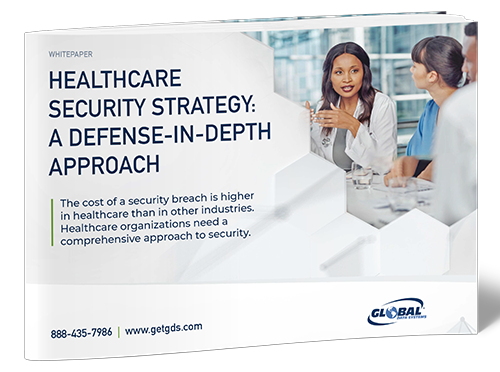 Fill Out the Form Below

to Download This Whitepaper

Written by

Healthcare Cyber Security & IT Industry Experts
Our writing team has over 10 years in the IT industry
This whitepaper offers deep insights based on our experience in the industry
Our whitepaper resources seek to educate our clients on topics that affect their business