Global Data Systems Honored On The 2023 CRN Tech Elite 250 List
Lafayette, LA, April 25, 2023: Global Data Systems (GDS), a leading full-service managed service provider, announced today that CRN® , a brand of The Channel Company, has honored Global Data Systems on its 2023 Tech Elite 250 list.
GDS ranks amongst the top technology providers in North America with the highest level of certifications and specializations to provide IT excellence for businesses.
This annual list features solution providers of all sizes across the U.S and Canada that have differentiated themselves by achieving the highest level and largest breadth of certifications and specializations from key technology vendors in the infrastructure, cloud, and security spaces.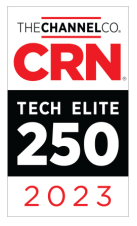 Businesses rely on solution providers to maintain the highest levels of technical prowess across critical products and services to help them meet today's IT challenges and take advantage of the benefits of cutting-edge solutions. To meet these demands, solution providers such as strategic service providers, systems integrators, managed service providers and value-added resellers strive to maintain high levels of training and certification from IT vendors and achieve the highest tiers within those vendors' partner programs. Global Data Systems' staff and technicians are experts in their field. With over 25+ certifications and counting, GDS is equipped with the expertise and knowledge to work for their customers helping them solve their IT problems.
"We are excited about being recognized as one of the CRN Tech Elite 250 for 2023," said Bob Miller, COO of Global Data Systems. "We feel this recognition shows that our investments in training and certifications not only serve our customers by allowing us to be their subject matter experts, but also shows the value to our Page | 2 employees as an investment in them as individuals. GDS has always invested heavily in training and certification to differentiate ourselves from competitors who do not recognize the need for a wide range of knowledge of the IT ecosystem."
"CRN's Tech Elite 250 list features the leading solution providers in the IT channel with the most in-depth technical knowledge, expertise, and certifications for providing the highest level of service for their customers," said Blaine Raddon, CEO of The Channel Company. "These solution providers have continued to extend their aptitudes and abilities across various technologies and IT practices, demonstrating their commitment and value to their customers."
Coverage of the Tech Elite 250 will be featured in the April issue of CRN Magazine and online at www.CRN.com/techelite250.
About Global Data Systems
Established in 1987, Global Data Systems, Inc. (GDS) is a leading full-service managed service provider of Security, Connectivity, Managed IT, Voice & Collaboration and Cloud services. We help organizations boost their bottom line and streamline operations through strategic application of worldclass IT solutions. It is our passion for making IT simple that empowers our clients to reach their highest potential. With GDS as a partner, you can quit worrying about IT and focus on what matters most…your business. GDS is headquartered in Lafayette, LA with additional offices and sales and technical personnel in Baton Rouge, Lockport, and Houston, Texas.
Follow Global Data Systems: LinkedIn, Twitter and Facebook
About The Channel Company
The Channel Company enables breakthrough IT channel performance with our dominant media, engaging events, expert consulting and education, and innovative marketing services and platforms. As the channel catalyst, we connect and empower technology suppliers, solution providers and end users. Backed by more than 30 years of unequalled channel experience, we draw from our deep knowledge to envision innovative new solutions for ever-evolving challenges in the technology marketplace. www.thechannelco.com
Follow The Channel Company: Twitter, LinkedIn, and Facebook.
The Channel Company Contact:
Natalie Lewis
The Channel Company
This email address is being protected from spambots. You need JavaScript enabled to view it.
If you would like more information about this release, please contact Jamie Guidry, Marketing Manager at 985.242.5104 or email at This email address is being protected from spambots. You need JavaScript enabled to view it..