Global Data Systems Awarded the Business Transformation Award by AT&T Partner Exchange at Fusion
LAFAYETTE, LOUISIANA. November 21, 2019 – Global Data Systems, Inc., a full-service managed solution provider and AT&T Platinum Solutions provider, announced today they have been awarded the Business Transformation Award by AT&T Partner Exchange, which distinguishes a partner as a leader in sales of AT&T solutions through the Partner Exchange portfolio.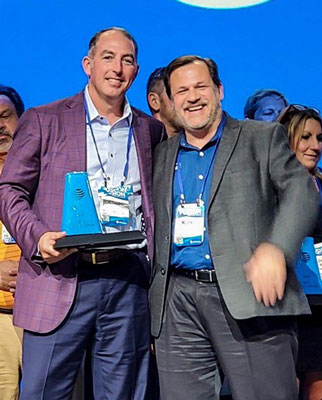 Global Data Systems has shaped their business to make IT simple across all areas of IT infrastructure in wireless, wireline, and security services. But the biggest business transformation for GDS involves AT&T mobility solutions, which has deemed tremendous success. "Providing secure connectivity within 48 hours is the ultimate value we want to provide to our customers", said Chris Vincent, President of Global Data Systems. Without our partnership with AT&T, that 48-hour window wouldn't exist".
"Customers operating in today's business world need results more than ever, but often find themselves struggling to find partners who can deliver more than just bandwidth, said Wade Berzas, Vice President of Sales of Global Data Systems. Our partnership with AT&T helps us to deliver solutions that enable our customers to cut costs, move and grow faster, and strategically beat their competition by allowing them to focus on their business. We believe in going above and beyond to serve our customers and to make things easy on them. AT&T's Partner Solutions group shares that same passion."
"AT&T Partner Solutions has been such a great partner to us, said Berzas. I was at Fusion last year, watching all of the award winners, hoping that we too could someday make it on that stage. Our team's hard work, over the past several years, was rewarded. It's both amazing and humbling when someone else recognizes all that hard work, and we truly believe that there is so much more room for growth with this partnership."
###
About Global Data Systems
GDS is a full-service managed IT company with the deep engineering expertise and technology tools to support midsize and large enterprises. We specialize in solutions for oil and gas, marine transportation, industrial construction, government and healthcare, providing our clients with the most up-to-date and innovative approaches to overcoming industry pains.
We help organizations boost the bottom line and streamline operations through the strategic application of world-class IT solutions. But it is our passion for making IT simple that empowers our clients to reach their potential. With GDS as a partner, you can quit worrying about IT and focus on your business.
Global Data Systems is headquartered in Lafayette, Louisiana, with additional offices and sales and technical personnel in Baton Rouge, New Orleans, Lockport, Louisiana, and Houston, Texas.