eBook: A 5-Step Approach to Reducing the Risk of a Devastating Cyberattack
In this ebook, learn how a managed security services provider like GDS can help improve your organization's security maturity and reduce risk of a cyberattack.
About This eBook
Cybersecurity should permeate your organization's culture and operations. Effective security is more than a tool or process. It's a mindset in which cybersecurity permeates the organization's culture and operations.
This ebook goes into detail about improving your organization's overall security maturity.
Assessing Your Organization's Cyber Vulnerability - Get insights on identifying gaps in your security posture
Cyber Insurance - Learn about cyber insurance - what it is and how it can help you.
Incident Planning - Get know-how on making an incident response plan and why it should be a critical part of your security strategy
Learn about all these and more and get deep insights into cyber security from the experts at GDS.
What You'll Learn
Get insights into how you can increase your organization's security maturity with a 5 step approach.
Learn about vulnerability assessments, effective patch management, incident response plans and cyber insurance.
With more than 30 years of experience, GDS has the proven ability to develop solutions that precisely meet your business objectives. We are committed to excellence in service delivery, from solution design and implementation through simplified billing.
GDS can help you by implementing a fully managed security services solution that protects you from cyber threats - Call 888-435-7986 or Contact us Now >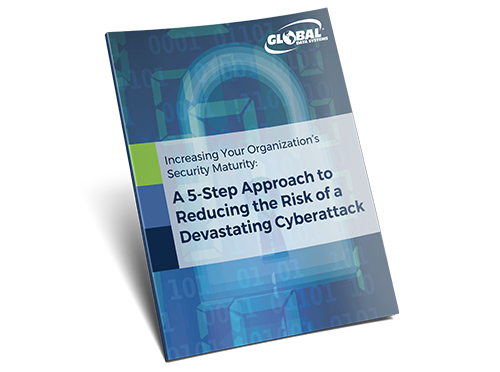 Fill Out the Form Below

to Download This eBook

Written by

Cybersecurity & IT Industry Experts
Our writing team has over 10 years in the IT industry
This whitepaper offers deep insights based on our experience in the industry
Our whitepaper resources seek to educate our clients on topics that affect their business