Home Healthcare Connectivity Case Study
SEE HOW GDS ADDRESSED THE CONNECTIVITY AND COMMUNICATION NEEDS OF THIS HOME HEALTHCARE COMPANY
A leading in-home healthcare provider came to GDS for help with growing their business. This company lacked reliable connectivity across their branch locations and had outdated technology and phone systems. Supporting this inconsistent IT environment was costly and challenging, and distracted the company's IT team from strategic initiatives. The company turned to GDS to help solve their challenges.
GDS architected a managed, secure SD-WAN solution called Next Generation Connectivity (NGC) that provides the bandwidth needed to support day-to-day operations at each of the company's locations. GDS also designed a secure, cloud-based phone system to serve as a global communications platform for all of the company's locations.


GDS implemented a robust connectivity and communications infrastructure.
Secure, fully managed solution that improves our operations, reduces risk and saves the client a substantial amount of money.
One bill for all WAN and communications services.
Let GDS help you solve your IT problems - Call 888-435-7986 or Contact us Now >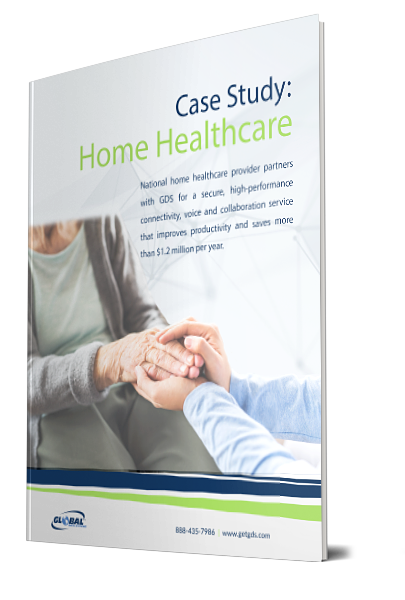 Discover the GDS® Solutions

to the Problems this Home Healthcare Company Faced