Emergency Communications Center Case Study
By partnering with GDS, a 911 agency is able to increase the security and availability of its IT environment and outsource routine management tasks.
An emergency communications center has partnered with Global Data Systems for more than 20 years in order to minimize the distractions associated with day-to-day IT management. GDS has assisted with a number of major IT projects, including the buildout of IT infrastructure in a new facility. The GDS team also provides an array of managed services and user support.
When this emergency communications center began constructing a new facility, they wanted GDS to be hands-on in helping to plan all of the network infrastructure. In this new facility they had a lot of new needs they needed help with. The agency wanted a network that was highly available, with multiple points of redundancy, and protected against malware and other security threats. In addition they needed a highly available wireless network and new servers to run applications, operations and administration.
Through their partnership with GDS, we built a custom solution completely tailored to their needs. Learn more in the case study:
See how GDS was a crucial partner in making sure their new facility infrastructure was planned and built with their IT needs in mind.
Learn about our turnkey solution that completely simplified their IT operations and took the burden of mundane tasks away from their in-house IT staff
Let GDS help you solve your managed services problem -
Call 888-435-7986 or Contact us Now >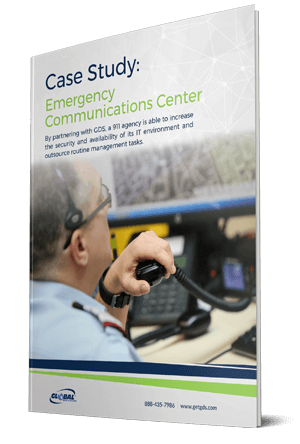 Implemented a custom, comprehensive managed IT solution
Get deeper insights our managed infrastructure & desktop solutions
GDS manages and monitors the agency's hardware and software