From Execs to End-Users, Managed Services Deliver Important Business Benefits
Technology drives business innovation and efficiency, but IT operations are not among the core competencies in most organizations. Managed services arrangements address this gap by providing access to advanced IT expertise while also helping organizations efficiently allocate limited resources and control spending.
However, managed services shouldn't be viewed as strictly an IT solution. Here are some of the ways MSPs create value and efficiencies that permeate the entire organization:


The C-Suite
Most companies using managed services report improved bottom-line benefits through reduced IT costs. Proactive monitoring and maintenance of systems can cut costs by limiting downtime and reducing security risks. In addition, managed services provide greater control over the IT environment and can help consolidate systems, enabling a leaner business with more predictable costs.
Managed services can also boost profitability. Key staff members can become sidetracked from core areas of expertise to work on technical tasks. This can slow productivity and prevent the business from growing. Outsourcing IT functions allows business owners and executives to remain focused on strategic initiatives. Additionally, MSPs can help drive leading-edge technologies into the business to further enhance efficiency and productivity.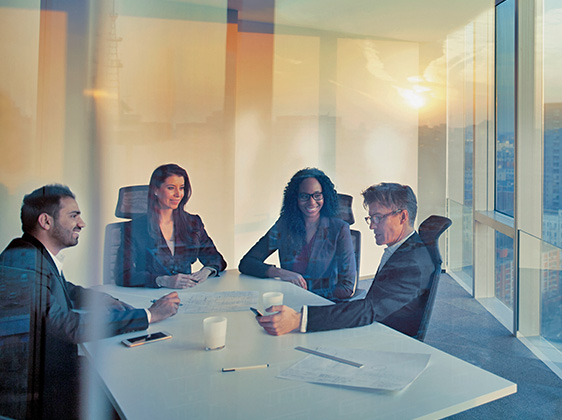 Managed services provide organizations access to advanced IT expertise while also helping organizations efficiently allocate limited resources and control spending.
The IT Team
IT skills shortages affect companies of all sizes, limiting their ability to implement promising technologies. An MSP can relieve the pressure by taking over many routine tasks and bringing in experts with practical expertise in the design and implementation of advanced solutions that can improve productivity and innovation.
Staffing shortages also affect security. At a time when cyberthreats are becoming increasingly sophisticated and frequent, few organizations have dedicated security experts. Best-in-class MSPs can enhance security and compliance by ensuring that proper security measures are implemented and kept up-to-date.
The managed services model delivers tremendous flexibility by allowing IT to scale support and services up or down as needed to meet evolving requirements. This allows IT to accommodate rapid changes and remain responsive to both long-term and short-term organizational needs.
Department Managers
The best MSPs have expertise in the technology requirements of specific departments such as accounting, operations or human resources. Department managers can tap into the provider's expertise with human capital management platforms, payroll applications or supply chain management systems without the need to hire and train a full-time employee.
This gives managers a great deal of flexibility in optimizing the staffing, services and support that will be required for projects. Buying fully managed solutions also eliminates some hardware and software purchases, helping managers conserve their budgets.
End-users
A recent Forrester Consulting study found that outdated technology creates high levels of employee disengagement. The paper claims that companies worldwide incur annual productivity losses of more than $400 billion due to employees who are "checked out or actively hostile toward their employers."
By helping keep your workplace technology functioning properly, MSPs help your employees remain engaged, efficient and productive. Managed services also support the tools needed to enable modern workstyles such as remote working, teleconferencing and co-working.
Why Partner with GDS
Technology is not merely a business tool, but a strategic business driver, capable of delivering a range of cost and operational benefits. However, organizations must efficiently use their limited resources to realize those benefits.
GDS offers a comprehensive suite of managed services to help you maximize the value of your IT infrastructure. Plus, every solution GDS delivers is fully managed by our team of experts. We can help everyone in your organization focus on high-value projects that increase efficiency, productivity and innovation.
Benefits of Managed Security Services from Global Data Systems
Strategic Managed IT: We help you solve your technology related business problems.
Connectivity: We get you reliable, secure connectivity anywhere in the western hemisphere in 48 hours.
Support: When you need help simply call our 24x7x365 support number.
Billing: Instead of managing hundreds of vendors - get one, easy to read bill from GDS.