7 Ways Remote Monitoring and Management Benefit Your Organization
There's really no such thing as an 8 to 5 business anymore. Even if your office closes at 5:00 pm, employees still expect access to email, collaboration tools, and other applications and data. Customer-facing applications need to be available, too. And your cybersecurity tools better be working around the clock because hackers never sleep.
Odds are, however, you don't have a 24x7 IT team. A tech might be on call to respond to issues after hours, but nobody is sitting in the data center keeping an eye on things. Problems could arise that result in extended downtime.
That's one of the primary reasons why organizations partner with a managed services provider (MSP), even if they have in-house IT staff. Qualified MSPs use software tools to remotely monitor and maintain the health and security of an organization's systems and network, and have a deep bench of engineers for around-the-clock coverage.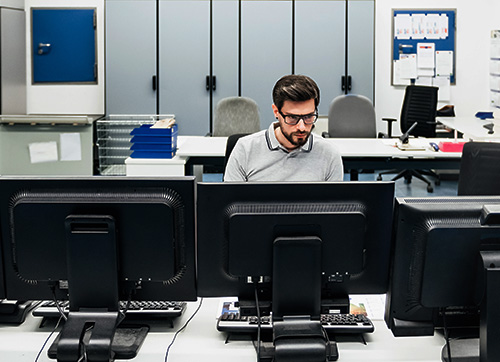 Remote monitoring and management from a trusted managed services provider can greatly benefit your business or organization.
Here are seven key ways 24x7 remote monitoring and management and benefit your organization:
Proactive maintenance
Sophisticated monitoring tools are capable of uncovering subtle problems that can result in downtime if they aren't resolved right away. The MSP's team can address these issues proactively before end-users even know they exist.
Security incident response
If suspicious activity is detected, the MSP's security tools can determine if it's malicious and immediately take steps to contain the breach. Security experts in the MSP's network operations center have the data they need to uncover the root cause and scope of the incident.
Rapid problem resolution
Using agent tools, the MSP can take remote control of various network systems, devices and applications to fix problems quickly, even when the user is offline. Rapid response helps your organization maintain optimal productivity.
Automated maintenance
The MSP's software makes it possible to automate scheduled maintenance such as operating system and security software updates, patch management, and network configurations.
Customizable alerts
The MSP can work with your IT team to develop thresholds based upon business requirements. The MSP's remote monitoring and management tools can automatically trigger email or text alerts so the issue can be analyzed and addressed.
Detailed reporting
The MSP's remote monitoring tools are constantly gathering information from systems and applications. Detailed reports can be generated and used to evaluate the health and performance of the IT environment, ensure security, and identify long-term trends. Knowing how your systems are working helps you make more-informed decisions about IT investments.
Integration with IT service management tools
Best-in-class MSPs can integrate their tools with your IT service management and help desk ticketing software to further increase automation, efficiency and service quality. As a result, issues are addressed more quickly and with greater accuracy and consistency.
Could an in-house IT technician do all this? Perhaps, if the environment is relatively small. But performing routine maintenance and poring over system log files all day probably isn't the best use of the technician's time. More importantly, it won't provide the rapid, proactive 24x7 response that helps minimize downtime.
If you're evaluating MSPs, find out if their remote monitoring and management platform supports all of the systems and devices in your environment:
Does the MSP offer the flexibility to use certain tools and functionality and add others if necessary?
Can the MSP provide you with sample reports that show what work is done behind the scenes?
At GDS, managed services are baked into every solution we offer. Let us show you how our team can keep your IT environment healthy so you can achieve your business goals.
Benefits of Managed Security Services from Global Data Systems
Strategic Managed IT: We help you solve your technology related business problems.
Connectivity: We get you reliable, secure connectivity anywhere in the western hemisphere in 48 hours.
Support: When you need help simply call our 24x7x365 support number.
Billing: Instead of managing hundreds of vendors - get one, easy to read bill from GDS.