Helping Public Utilities Connect and Secure Infrastructure and Support Remote and Mobile Workers
GDS empowers public utilities to optimize operations, protect critical infrastructure, and ensure reliable connectivity.
Achieve cost-efficiency and regulatory compliance
Leverage our experience for strategic decisions & efficient IT solutions
Enable secure remote access and cloud communication for your workforce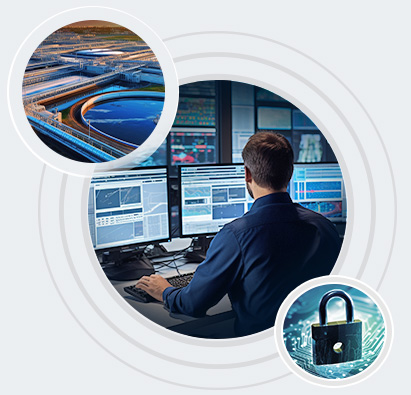 In public utilities, complex geography, regulatory pressures, resource limitations, cybersecurity vulnerabilities, and the quest for operational excellence converge into a spectrum of IT hurdles.
Increased regulatory requirements and changing customer expectations drive technology investments in the public utilities sector. The Department of Homeland Security demands that utilities secure their infrastructure from physical threats and cyberattacks. Cybersecurity for utilities can be daunting given the geographically dispersed nature of utilities infrastructure. At the same time, utilities must increase efficiency to keep a lid on costs while optimizing the customer experience.
Technology can address these challenges, but many utilities lack the resources and expertise to handle major cybersecurity implementations. They also need help managing the distributed network and responding to security threats. Addressing these pressing concerns is where GDS excels, drawing upon decades of experience within the public utilities sector.
Addressing & Solving Public Utilities IT Challenges
GDS offers an array of managed IT solutions & services, including cybersecurity for utilities, that solve the issues public utilities face, backed by decades of experience in the utilities sector.".
Highly available connectivity to support physical security controls, SCADA systems and IP communications across far-flung infrastructure.
Cloud-based IP phone systems and contact center solutions that enable staff to access enterprise-class features from any location.
Bolster Cybersecurity for Utilities: Protect your utilities against a broad spectrum of cyber threats.
Wireless networking solutions that provide seamless connectivity for employees using mobile devices.
Expert managed services to ensure the highest levels of security, reliability and performance while relieving in-house staff of monitoring and maintenance tasks.
Establish Secure Infrastructure: Build and maintain a resilient and secure network foundation.
Key Features and Capabilities Of GDS Services
WAN provisioning, implementation, and management across multiple locations
Core network upgrades to support real-time security video traffic
Secure remote access, giving staff the flexibility to work anywhere
Robust contact center capabilities to enhance the customer experience
Layered security tools that meet strict regulatory requirements
24x7x365 monitoring and management to maximize availability
Schedule A Discovery Call with a Managed IT Expert
We'll discuss your

public utility

& offer a tailored IT solution customized for your needs & budget

Frequently Asked Questions About Public Utilities Managed IT
1.) We have well sites and other infrastructure across a broad geographic area. How do we get connectivity to those locations?
GDS specializes in managed IT solutions, including the design, implementation, and support of robust WAN solutions. Through our Next-Generation Connectivity platform, we can leverage various network transport options to deliver highly available and secure cloud network security anywhere. Our experts monitor and manage the network and respond rapidly to support requests.
2.) We want to give our staff the flexibility to work from home. Does GDS support remote workers?
Yes. We support remote and hybrid work in multiple ways, providing secure remote access to corporate IT resources, including private cloud computing security. Our nCONTACT™ hosted unified communications service extends the corporate phone system to remote and mobile users, ensuring secure network infrastructure for your workforce. Our cloud contact center gives customer service staff access to a full range of tools regardless of location. We also manage, support, and secure remote desktops throughout your operations, bolstering cyber security for utilities.
3.) Our in-house IT team is very knowledgeable but sometimes needs help with tough problems.
The GDS engineering team is always available to help customers work through technical challenges related to secure infrastructure. We also have strategic meetings on whatever schedule you feel is appropriate to assist with important technology decisions.