Access Data from Any Location
The GDS Offshore Connectivity solution addresses the need for reliable connectivity in offshore environments.
SD-WAN combined LTE and Satellite
Portable and Seamless
Easy to set up
Discover how GDS® Solutions

Solved the Connectivity Problems MORRISON Faced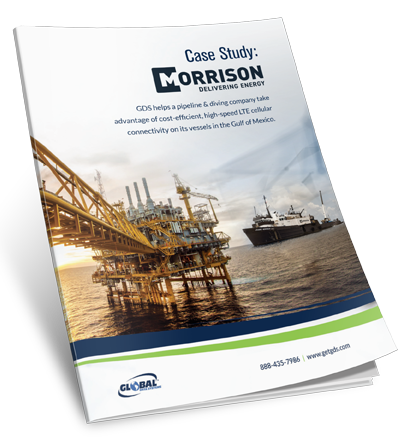 Our Solutions Are Dedicated to Reliable Connectivity Offshore
The oil-and-gas industry is just like any other — users need access to applications and data from any location, including offshore operations. In fact, the demand for connectivity is increasing rapidly as firms seek to monitor, optimize and proactively maintain their investments through the use of mobile devices and the Internet of Things. However, traditional connectivity solutions lack the performance and capacity to support these emerging applications.
The GDS Offshore Connectivity solution addresses the need for reliable connectivity in offshore environments. It features NOMAD-GOM, a unique SD-WAN platform that combines LTE wireless with satellite service. The self-contained, portable solution is easy to set up and use, providing everything needed for seamless connectivity.
The experts at GDS have engineered the solution to ensure optimum performance for voice, video and other latency-sensitive applications. The solution incorporates robust security to protect sensitive data, and is monitored, managed and supported by the GDS team.
Problems It Solves
Lack of reliable connectivity for offshore operations
Insufficient bandwidth to support growing requirements
Poor call quality and application performance
High cost of traditional satellite services
Inability to switch between connections as needed
We have developed connectivity solutions that address common use cases:

NOMAD-GOM
Supports vessels, rigs, platforms and other offshore locations with seamless connectivity, while minimizing reliance on expensive satellite services.

NOMAD INFINITY
Simple, fast to deploy mobile router that delivers reliable, secure gigabit LTE in fixed pricing.
GDS offshore connectivity enables you to:
Ensure seamless connectivity for vessels, rigs, platforms and other offshore locations
by leveraging LTE wireless for high bandwidth and low latency, with instantaneous failover to satellite where cellular service is unavailable.
Optimize the user experience
with a platform that delivers high-quality business communications and application performance. Network traffic is prioritized based upon application, use case, user profiles and other criteria.
Control WAN costs
by minimizing reliance on expensive satellite services for offshore connectivity.
Maximize security for sensitive applications and data
through deep packet inspection, application-layer content filtering and other robust controls.
Simplify offshore connectivity
with a self-contained solution that can be deployed rapidly in any location. This "office in a box" includes everything needed to provide voice and data network services for up to 25 users.
Reduce IT operational overhead
with a fully managed solution featuring 24x7x365 monitoring, maintenance and support. GDS provides one, simple statement that consolidates all telecom and satellite service charges.
Get Rock Solid & Stable Connectivity.

Even in the most remote locations.