Solve the Challenges of Connectivity in Remote Locations, Job Sites, Vehicles & Mobile
Reliable, Secure Connectivity for everywhere you are
Mobile router that delivers gigabit LTE in fixed pricing
Simple & fast to deploy with 24/7/365 Support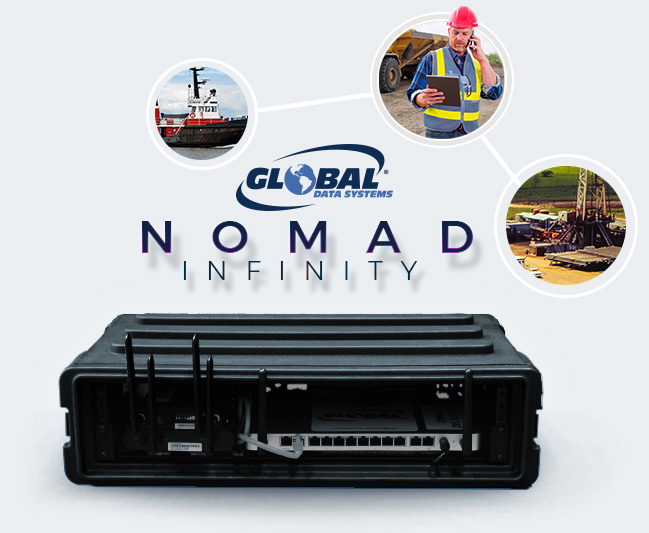 Problems It Solves
Carrier mobile connectivity with high, per-device data rates
Wi-Fi hotspots that put sensitive data at risk
In-vehicle wireless solutions that are complex to deploy
Complex billing from multiple providers
Lack of differentiated service for business-critical applications
Highly Reliable, Secure Connectivity for Remote, Mobile and In-Vehicle Applications
LTE cellular has revolutionized business communications, but the cost of cellular data plans can quickly add up with today's high-bandwidth, data-intensive applications. GDS has addressed this challenge with a cost-efficient solution that provides highly reliable and secure connectivity for remote, mobile and in-vehicle applications.
The NOMAD Infinity Service features a ruggedized mobile router that delivers Gigabit-class LTE service in a fixed-rate pricing model. It also includes two 10/100/1GB LAN ports and built-in 802.11ac Wave 2 Wi-Fi to support multiple devices and wireless connectivity. Quality of Service (QoS) technology makes it possible to prioritize business applications such as dispatch, logistics, command and control, telematics, and monitoring, while integrated security features protect against cyberattacks.
All-in-one, plug-and-play unit
This unique solution gives workers the flexibility to set up operations at job sites, customer facilities and other remote locations. Always-on connectivity enables personnel to access applications and data, while in-vehicle connectivity supports use cases in public safety, service and delivery, fleet operations, and nearshore marine.
Like all GDS NOMAD solutions, the Infinity Service is an all-in-one, plug-and-play unit that's simple to deploy. Best of all, it's fully managed by the experts at GDS, with real-time monitoring, unlimited 24x7x365 support and strategic lifecycle management services.
GDS In-Vehicle Connectivity Solution Enables You To:
Defend against Cyberattacks
with an application-aware firewall, advanced threat management and more. Web content filtering controls network usage and blocks access to malicious and undesirable content.
Optimize performance
through application-aware traffic steering technology. The NOMAD Infinity service continuously monitors network conditions and selects the best data path to ensure a high-quality user experience.
Prioritize business applications and data
according to business requirements. While most LTE services offer only "best-effort" data transport, our solution uses Quality of Service (QoS) technology to deliver a differentiated service.
Smooth out your budget
with a no-overage plan in a fixed-rate pricing model. We also present you with a single invoice each month for all communications services.
Gain a turnkey solution that includes 24x7 monitoring and support
Our experts respond rapidly to issues, ensuring secure, reliable service while minimizing the burden on your IT staff.
Partner with a team that has extensive experience
in the design, implementation and management of wide-area networks. We can create an intelligent WAN that supports all of your connectivity requirements.