For today's tugboat and towboat operators, traditional radio communications are no longer enough. Inland marine vessels need secure and reliable data connectivity to support a variety of systems and processes.
Increasingly, these vessels are using electronic charts and logbooks to track data on engine performance, maintenance and more. By connecting these onboard systems to onshore applications, tugboat and towboat operators can reduce downtime and avoid expensive repairs. Electronic charts also increase efficiency by automating many processes, and improve the ability to comply with a growing array of safety regulations.
Connectivity also helps inland marine operators attract and retain crew members who have expertise in this increasingly sophisticated equipment. In fact, reducing crew turnover and improving training has become a primary objective in the industry. Younger, tech-savvy workers in particular are demanding better communications and Internet connectivity. They expect access to social media, news, music and entertainment, as well as e-learning and professional development tools.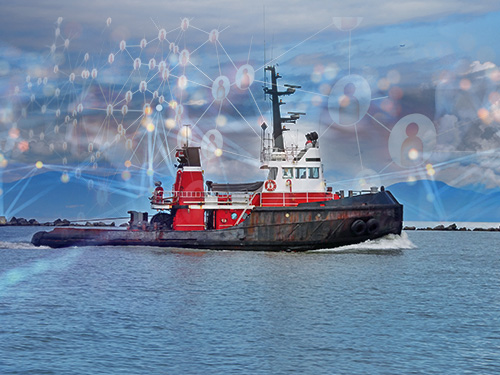 However, data communications has always been a challenge for tugboat and towboat operators.
Cellular connectivity is spotty on inland waterways, leading to dropped connections and performance problems. In addition, costs continue to increase along with bandwidth demands. Owners and operators need to understand how much bandwidth is being used, how much is needed and the most cost-efficient way to deliver it to their vessels.
Improved cybersecurity is also a critical requirement. Crews accessing the Internet could introduce malware to onboard systems. Sensitive operational and personnel data must be protected from cyberattack.
Global Data Systems has addressed all of these issues with its NOMAD solution. NOMAD includes industry-leading networking equipment in a portable, ruggedized container. Simply plug it into an electrical outlet and connect data cables to gain secure WAN connectivity for up to 25 people.
The inland marine industry continues to evolve at a rapid pace, relying on increasingly sophisticated equipment that requires continuous data connectivity.
NOMAD also features a GDS hosted unified communications service for voice, chat and collaboration. The intuitive interface works with a wide range of devices, making it easy for crew members to communicate with family and friends as well as onshore colleagues. Quality of Service capabilities optimize the user experience, while 24x7x365 support by the GDS team simplifies administration and ensures reliability.
NOMAD
GDS cloud-based managed security services are built into NOMAD. End-user security tools continuously monitor devices to detect malicious files or activity, enabling rapid response to cyberattacks. The GDS layered security solution also prevents malicious emails from ever reaching users' inboxes, blocks malicious websites and risky applications, and prevents the exposure of sensitive data by enforcing security policies.
The GDS multi-carrier private network delivers 99 percent availability at a predictable cost. Satellite connectivity can be added for backup if desired. GDS also provides one easy-to-understand bill for all WAN services across all vessels and onshore operations.
The inland marine industry continues to evolve at a rapid pace, relying on increasingly sophisticated equipment that requires continuous data connectivity. Crew members are also more sophisticated, demanding WAN connectivity for personal and professional use. GDS has overcome the obstacles to inland marine connectivity with its unique NOMAD solution. Let us show you how NOMAD and our private network can keep your tugboats and towboats connected.